As you likely know, one of the provisions in the Affordable Care Act (ACA) was the Hospital Readmissions Reduction Program. This program applied financial penalties to hospitals whose readmission rates exceeded national average for benchmark hospitals. The result is that from 2007 to 2015, readmission rates for the condition rates targeted by the program declined from 21.5% to 17.8%. Skeptics argued that the reduction came from a policy change in hospitals whereby instead of readmitting patients with targeted conditions, they would keep them in an observation center instead. The New England Journal of Medicine (NEJM) studied this and concluded otherwise.
The New England Journal of Medicine Validates Readmission Reductions
After studying data from 3,387 hospitals, NEJM validated that the results are valid and that readmission rates did in fact drop. They observed that the decline was faster just after the passage of the act, but that the rate has continued to decline. Below is a graph, courtesy of NEJM, showing the results for both targeted and non-targeted conditions.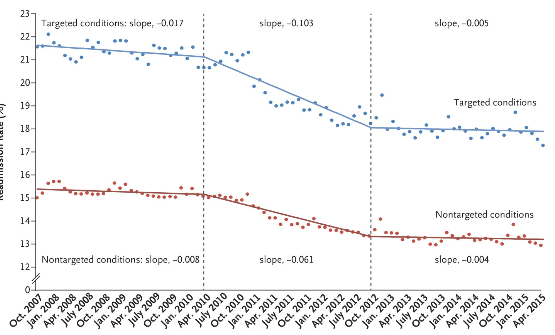 Was Hospital Readmissions Reduction Program Successful?
If I was asked whether the readmissions reduction program was successful, I'd answer "not yet." As you know, we're pretty optimistic here at the Ankota blog and we see home care playing a huge and critical role in health care reform. So a "not yet" rating from us is pretty harsh. Here's why we give that rating:
Most importantly, the readmission reduction programs that we've observed and reported on have generally seen a 50% or better improvement. Thus the 12% drop so far is not all that impressive

The big scary penalty that rose year over year between 2013 and 2015 didn't amount to much. In the end, the penalty turned out to average $250, whereas the reimbursement for the readmission average north of $6,000

Many hospitals have not taken it seriously (70% have accepted penalties rather than solving the problem), nor has home health care who have seen the rates they can charge for readmission avoidance as not attractive compared to their standard OASIS rates.
Ultimately, Readmission Reductions are Still Critical, Here's Why
The Committee for Medicare and Medicaid Services (CMS) is changing their tactics and making it so that readmissions need to be reduced more significantly. One of the primary ways is via bundled payments. We've reported on bundled payments here and here, but in a nutshell they give the hospital a fixed fee for the procedure and recovery, so if a readmission occurs the hospital has to pay for it.
The Most Affordable Readmission Avoidance Solution
Ankota offers a technology solution called Foresight Care that enables significant reductions in readmission rates and costs 50 cents per day. In a nutshell, Foresight Care is an automated service that calls patients, asks them questions based on their case mix that would indicate if they're trending towards a readmission and alerts you. You can sell this service to hospitals with a nice margin and still make it very attractive to them. To learn more, press the button below:
Ankota provides software to improve the delivery of care outside the hospital, focusing on efficiency and care coordination. Ankota's primary focus is on Care Transitions for Readmission avoidance and on management of Private Duty non-medical home care. To learn more, please visit www.ankota.com or contact us.