Nurses are wonderful and in the editorial opinion of this blog, nurses and home care workers will be the key to health care reform in the US. Our belief is that by having nurses oversee the care of our large population living with multiple chronic illnesses, that we can achieve better patient satisfaction and lower healthcare costs to the broadest population (also known as achieving "The Triple Aim").
Not All Nurses are Created Equal
Understanding the types of nursing degrees and certifications is helpful in determining how to best provide care solutions. So, if for example, you're a home care agency working to provide a care transition program with your aides, and you're looking to partner with the nursing services of a hospital or home health agency, you might be asked what kind of nurse you need on your team. The infographic below, from Maryville University does a nice job explaining the types of nurses. To see the original posting , click here. You can learn more about online nursing education programs at Maryville University by clicking here.

Achieving the Triple Aim in Home Care
Ankota has partnered with a new company called Triple Aim Technologies, that helps home care and home health agencies achieve the Triple Aim. You can learn more and download a free whitepaper by clicking here: "How Homecare Can Win Under the New Care Model".
If you're interested in scheduling an online demo of our home care or care transitions software solutions, just click this button: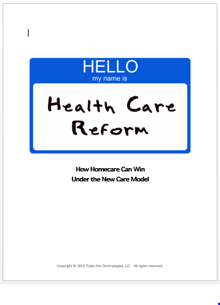 Ankota provides software to improve the delivery of care outside the hospital, focusing on efficiency and care coordination. Ankota's primary focus is on Care Transitions for Readmission avoidance and on management of Private Duty non-medical home care. To learn more, please visit www.ankota.com or contact us.