One statistic that is a strong indicator of the future size of the US home care market is the population of Americans over 80. For those of you who have read this blog and downloaded eBooks from Ankota before, you'll recognize the graphic below (courtesy of AARP). What it indicates is that today there are roughly 13 million Americans over 80, but that in the next 20-25 years, that population will more than triple to roughly 40 million people.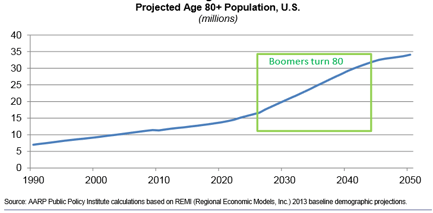 Why is the Population Over 80 a Strong Indicator of Home Care Market Size?
In general, there are two large markets for non-medical home care, one made up of the wealthiest population and one made up by the poorest. The wealthy prefer to age in their own homes where they can have the comforts and privacy that they've had throughout their lives. In many cases, the ultra wealthy will have live in care or at least will have in home care for many hours per day. Surveys of private pay non-medical home care agencies indicate that their average client age is generally in the low 80s, so for this market the growth in the over 80 population is clearly a direct indicator of market growth.
Similarly, Medicaid programs that service the poor such as the "Aging and Disabled Home Care Waiver Programs" in many of the 50 states have recognized that home care can be less expensive than institutionalized care. There are many varieties of programs including in-home-care and consumer directed services (CDS) programs that subsidize care for the elderly poor. Sadly the average home care recipient age on the Medicaid side is in the 70s as opposed to the 80s for the wealthy.
Another big difference is that the Medicaid programs generally provide fewer hours of care and base the need assessment on the specific personal care and chore activities that are needed to keep the individual at home. The programs generally pay under $20/hour and average 90 hours of care per recipient per month (for an average cost of $1,800 per month plus management fees). In many cases, this turns out to be significantly more cost effective than institutionalized care and in many of the CDS programs the consumer receiving care is able to select a family member such as a daughter or granddaughter as a care provider.
Despite the difference in the average age of recipients, looking at the growth curve of Americans over 80 gives a strong indication that the home care market will triple in the next 20 years.
What Must We do to Prepare for the Next Generation of Home Care?
The growing elderly population is a strong indicator of what the next generation will bring, but there are other factors as well including a shrinking caregiver pool, a shift in healthcare reimbursement that rewards prevention of hospitalizations, and opportunities offered by digital disruption and transformation.
Ankota has a free white paper available for download that provides a blue print for the future, entitled "Blueprint for the Next Generation of Homecare at Home". Just click the hyperlink to download.
If you're interested in scheduling an online demo of our home care or care transitions software solutions, just click this button:
Ankota provides software to improve the delivery of care outside the hospital, focusing on efficiency and care coordination. Ankota's primary focus is on Care Transitions for Readmission avoidance and on management of Private Duty non-medical home care. To learn more, please visit www.ankota.com or contact us.