One of the industry experts I learn from every time we speak is Ginny Kenyon, principal at Kenyon Home Care Consulting. Ginny helps open home care agencies and has given Ankota great inputs on our software. We at Ankota strongly believe that keeping elderly people healthy and comfortable in their homes (and out of the hospital) is an important step in the evolution of healthcare. Ginny is one of the pioneers driving moves in home health delivery. Enjoy her post (below).
When we think of the world of television producers, we think glitz, glamour, Hollywood parties, and movie stars. These people are really living the life! We often admire them, and we may even occasionally envy them. But, just like with any career, TV producers don't experience success without a lot of hard work, plenty of perseverance, and the right skill set.
In a similar vein, folks might assume working for a startup or "high growth" company has an aire of excitment, importance, and "glitz and glamour." While I think it's safe to say that many folks would not assume that working in private duty home care or home healthcare is particularly glitzy or glamourous.
That said, working in TV production, at a tech startup, and in home care startup or fundamentally similar in a number of ways.
Comparing Television Producers to Startup Experts
Many of the talents and qualities successful television producers possess can be easily transferred to other industries, especially healthcare. Often, what it takes to make it in the prized world of TV production is similar to what it takes to achieve your goals as a homecare professional. And with years of successful homecare leadership experience, startup experts know the ends and outs of opening an agency or expanding your current operation!
The Skills of a Successful Television Producer
In television creation as with startup experts, only those who have these skills and the right approach—either naturally or through trial and error—will experience success.
1. Leadership
It takes a lot of people to produce a TV show. As part of this huge team, producers are charged with leading staff and employees in the process and encouraging them to work together toward common goals. If leadership fails during production, the entire project falls apart.
As with most small businesses, your employees, co-workers, clients, and vendors are all looking to you (or to someone on your team) to guide and direct them in order for them to do their jobs effectively. A TV production and a home care startup won't function very well or very long without a leader setting the tone and direction of the process, not to mention having a clear chain of leadership command.
2. Communication
Producers do a lot of communicating, especially writing. They're able to write quickly and concisely. These are people who can easily command language and relay information to a variety of audiences.
In home care, you deal with a number of stakeholders with a number of different communication styles, agendas, and goals. Communicating clearly and effectively with each of them is paramount to a home care agency's success.
3. Multitasking
When you produce major shows, you're in charge of a wide variety of tasks. These can vary from small, repetitive assignments to important obligations. Being able to juggle all the undertakings required in a single day makes TV producers experts at multitasking.
Home care veterans likely know how true this paradigm is in home care. Time management, logistical planning, and multitasking are all skills that you'll need daily in order to succeed in home care.
4. Big-Picture Planning
Each television episode has lots of moving parts that must work in perfect harmony for a show to come together. But above all these small moving parts, is the big picture. Successful television producers have the ability to see how each piece of the puzzle fits into the finished product.
Especially when building an early-stage home care startup, there are a number of moving parts to deal with and coordinate. Setting up management software, doing payroll, hiring, getting business cards, networking, scheduling vosits, and so on. Seeing the big picture is an important skill to keep all the moving parts, well, moving.
5. Troubleshooting
TV producers cover all sorts of topics, ranging from wars and disasters to reality shows gone wrong. Successful producers know the importance of staying calm under pressure and how to identify the solution instead of adding to the problem. They're always prepared with a plan and ready with a workable backup strategy if needed.
Staying flexible and agile both throughout your day and as you grow your business is essential. Home care is about managing people, scheduling, admin, and a number of other elements that can take up your time. Being able to "put out fires" throughout each day is something those new to home care need to be prepared for.
6. Marketing Networking
When producers aren't producing, they're selling ideas to their bosses. The pitches they make have to be short, sweet, and strong. They can persuasively describe a concept in 30 seconds or less, and because of all their connections, they know when and how to talk the right people.
It's all about who you know, how you know them, and what value you can bring to them. The Ankota blog has gone into great detail on the importance of and Best Practices for networking to grow and maintain your business. The need for networking never stops, so be ready to hustle!
The Skills of Startup Experts
Like television producers, startup experts are responsible for the success or failure of a group effort. Let's take a look at how the skills of TV producers compare to a startup professional when helping to launch your new homecare agency or adding a new business line.
1. Leadership
A startup expert possesses leadership skills that allows him or her to guide clients in the right direction without overstepping any boundaries.
2. Communication
When launching a new organization or business line, communication is key. Communicating with agency leadership, your employees, and other community professionals is crucial. The right startup expert can help you learn to communicate effectively.
3. Multitasking
Starting a homecare agency involves juggling many balls at once. Since an industry expert has lots of experience and knowledge, they are very startup proficient.
4. Big-Picture Planning
All the little puzzle pieces of starting a home health care organization can become overwhelming. Startup experts know how to manage all pieces—federal and state regulations, gathering resources, strategy planning—all with your big picture in mind.
5. Troubleshooting
Unexpected issues and delays come up often when you're in the middle of a home care startup. Startup experts not only prepare for these problems ahead of time, but manage plan B or C if necessary.
6. Marketing and Networking
No startup is complete without the right promotion. Startup experts have the experience and know how to design a marketing plan, create referral contacts and promote your new business.
Startup Experts: Kenyon HomeCare Consulting
At Kenyon HomeCare Consulting, we turn your home care startup visions into reality. Our experienced experts and plethora of resources allows us to take your ideas from start to finish efficiently, so you're left with a compliant, successful agency.
Reach out to us today and learn more about our startup experts!
This article, originally titled, 6 COMPARISONS: STARTUP EXPERTS AND SUCCESSFUL TELEVISION PRODUCERS first appeared in Kenyon HomeCare Consulting blog.
------
One of Ankota's recent whitepapers, entitled "Selling Care Transition Services to Hospitals" is available for download and we think you'll find it useful. Please click the link or the picture below to download. If you're interested in scheduling an online demo of our home care or care transitions software solutions, just click this button: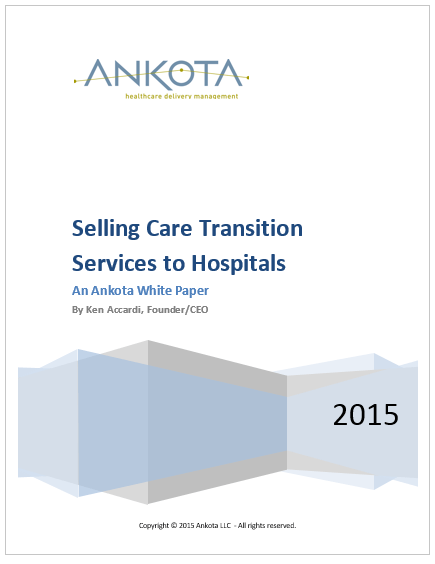 Ankota provides software to improve the delivery of care outside the hospital, focusing on efficiency and care coordination. Ankota's primary focus is on Care Transitions for Readmission avoidance and on management of Private Duty non-medical home care. To learn more, please visit www.ankota.com or contact us.