Today's guest post is from Beth Kelly who has been featured on this blog several times in the past. One of today's big technology areas receiving a lot of hype is the Internet of Things (IoT) and many articles talk about how this smart home technologies will impact home care and healthcare in general. In my opinion most of these articles are over-hyped and the reality is that adoption will take much longer. Beth's article, below, speaks to this reality and provides a balanced view of the likely adoption curves. My recommendation for home care agencies is to read through the post to become more familiar with IoT and Smart Tech for home care.
Smart home systems and objects connected to the "Internet of Things" could engage and support the wellbeing of aging seniors, but their success depends entirely upon how well they fit with their values, life skills and perception of this technology.
Automatic Wifi thermostats can keep temperatures comfortable without any manual intervention, alarm systems connect to a caregiver's smartphone for remote monitoring, and smart light bulbs mean no more dangerous stumbling around in the dark. While we can see today how these technological gifts might make aging in place a little easier down the road, the reality remains that older individuals are slow to adopt home automation devices in significant numbers. For all the hype and media glory, a mainstream deployment of "smart" systems has yet to truly bridge the generation gap.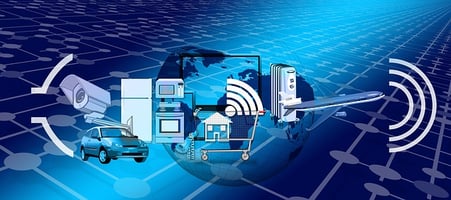 Older adults represent the fastest-growing demographic worldwide, and the fastest-growing demographic on social media. Large technology firms are eager to gain the trust and loyalty of this valuable audience, producing assistive technologies and sensors that may help contribute to a new sense of security and personal empowerment at the user's home. However, not enough is done to understand the complexities behind older person's perceptions of so-called "gerontechnologies" and other new Internet-enabled home products. The reasons for a reticence towards new technology are vast, and depend largely upon the individual, but in the race to make all homes "smart", we shouldn't be so fast to banish room for a few dumb questions.
Adoption rates for Facebook, e-book readers and medical alert pendants are high among senior citizens because these solutions address real needs, and provide meaningful social and healthcare connections with little nervous hassle in the process. Other new innovative technologies, perhaps a step removed from a senior's immediate benefit, risk inducing feelings of frustration, computer anxiety, and negative self-efficacy beliefs.
Released last month, Apple's Home app interface is intended to make smart home systems smooth and intuitive for users of all ages. But to see how it may fare in the senior market specifically, we need only look at a similar Apple product to see the stumbling blocks that lie ahead. Developed just a couple of years ago, the HealthKit framework and Health app were meant to enable the integration and management of data from fitness trackers, blood pressure monitors and other health-related equipment. Poor support from third-party manufacturers, possible privacy concerns and a couple of launch bugs made HealthKit a non-starter. At that time, consumers could see little reason to invest in a tool that provided neither "convenience" nor positive "connectivity."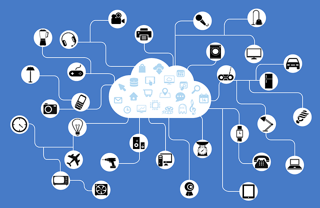 From the outside looking in, challenges inherent to the set-up, use, and maintenance of smart home technology may at first seem insurmountable. A bewildering array of incompatible standards, security gaps and confusing installation instructions mean that any would-be user of automated home tech must really do his or her homework before buying any devices. Another barrier to entry for consumers, and especially older people on fixed incomes, is cost. When the Philips Smart lighting system retails for more than $100, and the Nest Learning Thermostat sets buyers back more than $200, many on a retirement budget are opting to just make do with their old, incandescent light bulbs and hand-operated, analog thermostats.
A 2014 report from Pew Research attempted to document the usage of modern technology by those 65 years old or older. It found that broadband internet was used by fewer than half of this population. While 77 percent of seniors had a cellphone, only 18 percent were equipped with an Internet-enabled model. It's likely that these numbers have increased slightly from when the survey was conducted, but it's fair to say that the majority of older folks don't even possess the prerequisite equipment to begin using smart home products even if the other issues with the industry were solved overnight.
Now, on its next go-around, the Home app sends fresh appeal to all Apple smartphone users. Installed in all phones as a part of the most recent iOS 10 Apple software update it points the way towards greater convenience and comfort for everyone, including older users. Additional steps in this direction are being taken right now with five major home-building organizations announcing support for HomeKit in their newly constructed houses. More companies are sure to follow suit.
If we can't understand our own needs, how can we expect to program for them? We're not quite there yet, but as prices come down and more Baby Boomers take "smart" tech in stride, the next generation of seniors will push for the IoT market to grow relative to their individual desires and demands.
----
One of Ankota's recent whitepapers, entitled "Selling Care Transition Services to Hospitals" is available for download and we think you'll find it useful. Please click the link or the picture below to download. If you're interested in scheduling an online demo of our home care or care transitions software solutions, just click this button: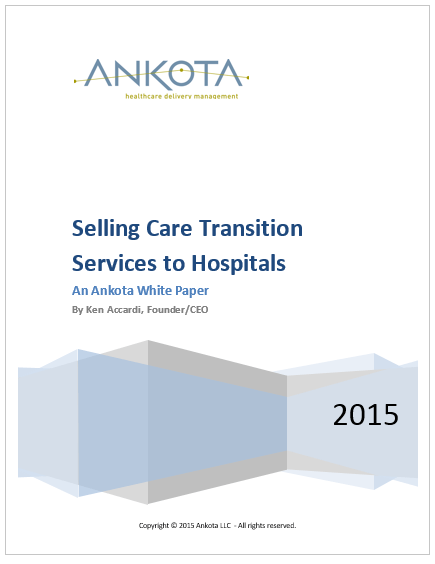 Ankota provides software to improve the delivery of care outside the hospital, focusing on efficiency and care coordination. Ankota's primary focus is on Care Transitions for Readmission avoidance and on management of Private Duty non-medical home care. To learn more, please visit www.ankota.com or contact us.