For Immediate Release: November 1, 2019
Ankota adds Patient Expenditures Tracking to its Home Care Software Suite

Boston, MA (November 1, 2019) – Home Care agencies are increasingly being asked to take on an increased role in managing the affairs of elderly individuals so that they can age in the comfort of their own home rather than face institutionalization. This has generated the need for agencies to track and be reimbursed for "expenditures" that are incurred on behalf of the client.
In support of this need, Ankota has introduced a new "Expenditures" module within our home care software suite. The software is presently being used in the Kentucky Medicaid "Goods and Services" program and in the Missouri Medicaid "Money Follows the Person (MFP)" program. The next roll-out is planned for California.
The main screen for this function is shown below: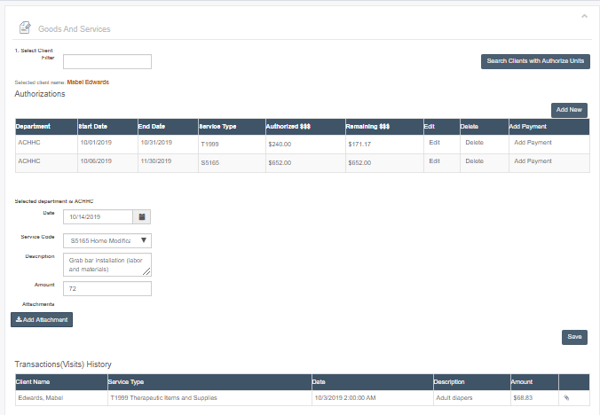 The key features are as follows:
Tracks authorizations with date ranges, dollar amounts and CPT codes
Allows tracking of individual expenditures by date and with receipts
Bills Medicaid or other payers via Electronic Claim (837) or Invoice
Tracks remittance and accounts receivables
Full audit trail
HIPAA compliant
For more information about the expenditures module or Ankota's Home Care suite, please contact Joel Merle-Smith at
jms@ankota.com
About Ankota

Ankota™ enables the next generation of home care, understanding the rapid growth of the elderly population and the shifts to managed care and population health. The highly customizable software offers full home care agency and Electronic Visit Verification (EVV) management including telephony, GPS, fobs and biometric authentication. It manages people, payers and programs via configurable business rule sets and supports optimized delivery of care in homes, readmission reduction, individualized plans of care and cost controls. Sophisticated scheduling algorithms support managing non-skilled and professional workers in post-acute markets that include home care (Medicaid, Private Pay, VA and more) and related segments including Area Agencies on Aging (AAAs), Centers for Independent Living (CILs) and more. Visit Ankota at https://www.ankota.com/.