Friday October 2nd at UMASS Boston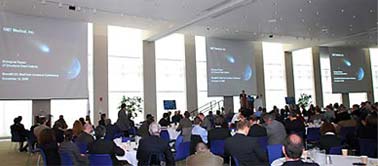 Boston, MA: Ankota has been invited to give a corporate presentation to leading medical technology investors in Boston. A full description of the event, to be held at UMASS Boston, on October 2nd is available at http://massmedic.com/investors2009/. The link includes information on how you may register for and participate in the event.
MassMEDIC and MedTech IGNITE describe the event as follows:
New England is a hotbed of cutting-edge research in the medtech industry. MassMEDIC is proud to offer an opportunity for regional promising early stage companies to showcase their technologies before an audience of potential investors and strategic partners. The Investors Conference has been a seminal event for medtech start-ups, more than 250 companies have participated in the Conference since 1999 - many making their debut before investors.
While the primary focus of the Investors Conference is on finance and investment, the annual program has also become an outstanding networking event, drawing more than 450 attendees representing every facet of medtech's finance, manufacturing, development and service supply sectors.

MassMEDIC's eleventh annual MedTech Investors Conference will be held on Friday, October 2nd at the U Mass Boston Campus Center. The day long conference will feature 10 minute presentations by 25 start-up and emerging medical device companies.
To learn more about investor relations at Ankota, please contact CFO Marc Ottinger on 800.909.9866 or via the Ankota website at http://www.ankota.com/.
About MassMEDIC
MassMEDIC seeks to create a positive environment and united voice for the Massachusetts Medical Device Industry, and to implement collaborative initiatives which make Massachusetts the medical device research, development and manufacturing capital of the world. For more info, go to http://massmedic.com/ or write to info@massmedic.com.
About MedTech IGNITE
MedTech IGNITE is the premier program in Massachusetts for nurturing medical device entrepreneurs at the early stages of their company's conceptualization, formation and development. As the only program to focus solely on medtech startups, we aim to increase the number and sustainability of early stage medical device companies in New England by providing targeted, industry-specific, one-on-one coaching to medtech entrepreneurs. For more info, go to http://www.medtechignite.com/.
About Ankota
Ankota is the pioneering company in the field of Healthcare Delivery Management (HDM). Ankota provides Home Care Software Solutions delivered via the Software-as-a-Service (SaaS) model that improves efficiency and compliance within Home Healthcare Operations. All Ankota solutions are designed with inputs from the home care community with the goal to provide better patient care in a provider-friendly manner. For more information, please visit http://www.ankota.com/.