January 24th though 26th in Phoenix AZ
Baltimore, MD: Ankota looks forward to exhibiting solutions for Private Duty care at the NAHC 5th Annual Private Duty Home Care Leadership Summit and Exposition. The meeting will be held from January 24th though 26th and the Pointe Hilton Tapatio Cliffs Resort in Phoenix Arizona.
Ankota's Private Duty Care Software features the following functionality:
Simple and powerful Visit Scheduling
Care Plans to track vital signs and task completion
Real Time Tracking via Telephony and Mobile applications
Automated Call Review (screening visits for patient concerns and potential charging issues)
Billing and Timesheet support
All of the necessary set-up screens (clients, workers, certifications, etc.)
The Ankota Home Care Telephony, Home Care Mobile and Home Care Scheduling products are deployed via the Software-as-a-Service (SaaS) model and are HIPAA compliant. This means that agencies don't need to invest in computers or IT staff to have access to world class capability.
Please visit Ankota at booth 21.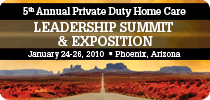 About NAHC
NAHC is the nation's largest trade association representing the interests and concerns of home care agencies, hospices, home care aide organizations, and medical equipment suppliers. Simply put, NAHC is the one organization dedicated to making home care and hospice providers lives easier.
About Ankota
Ankota is the pioneering company in the field of Healthcare Delivery Management (HDM). Ankota provides Home Care Software Solutions delivered via the Software-as-a-Service (SaaS) model that improves efficiency and compliance within Home Healthcare Operations. All Ankota solutions are designed with inputs from the home care community with the goal to provide better patient care in a provider-friendly manner. For more information, please visit http://www.ankota.com/.