July 14th – 16th in Chicago IL
Baltimore, MD: Ankota looks forward to exhibiting solutions that improve the quality and efficiency of the delivery of home care at the NAHC 16th Annual Financial Management Conference and Exposition (HHFMA meeting). The meeting will be held from Julty 14th through the 16th at the Sheraton Chicago Hotel and Towers in Chicago IL.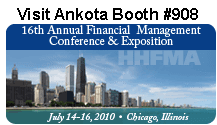 While the mainstay educational topics of accounting, collections, and cost reporting are still prevalent at the conference, there is a growing interest among financial managers on how to improve the efficiency of care delivery, and Ankota is excited to share our solutions. Some of the improvements that agencies can make with the assistance of Ankota's technology are as follows:
Reduce the time that caregivers spend on scheduling, determining where to go, and driving, allowing more time with patients.
Coordinate episodes of care so that all services are provided and billed, and no equipment is left behind
Communicate proactively with Family Members to improve relationships and cut down on "phone tag"
Track care delivery for paraprofessionals via telephony and smart phone applications to reduce paperwork while increasing compliance and reporting
Ankota made its public debut at the NAHC 15th Annual Financial Managers Conference in Boston last July and has since grown rapidly. "This is a celebration of our 1st birthday," explained Ankota CEO Will Hicklen, "We're so pleased with the welcome we've received by the home care community and look forward to helping the industry thrive. Our focus on improving the quality and efficiency of care delivery continues to make us unique among software providers, but as the word spreads, so does the value we deliver."
Please visit Ankota at booth 908.
About NAHC
NAHC is the nation's largest trade association representing the interests and concerns of home care agencies, hospices, home care aide organizations, and medical equipment suppliers. Simply put, NAHC is the one organization dedicated to making home care and hospice providers lives easier.
About Ankota
Ankota is a leading service provider of innovative, technology-based software for home care management. The company is a pioneer of next generation SaaS solutions for Healthcare Delivery Management (HDM), Private Duty, Durable Medical Equipment (DME), Physical Therapy and Home Infusion markets. Ankota is committed to improving the quality and efficiency of health care outside the hospital setting.
Ankota's suite of solutions includes: "delivery model" optimization - automating complex scheduling requirements; telephony and web-based tracking of patient visits and health status; paperless trails for supervision and audits; billing systems integration; and accurate, real-time reporting. Ankota's Family Connect, a secure web-based tool, ensures patient families are always one click away from knowing their relative's health and well-being.
Founded in 2008, Ankota, Inc. is based in Baltimore, Maryland with offices in Washington, DC, Philadelphia, New York, Boston, Chicago, Dallas and Minneapolis. For more information please go to http://www.ankota.com/.