October 26-29 in Uniondale NY
Baltimore, MD and Uniondale, NY: Ankota will be exhibiting at the New York State Home Care Providers Annual Meeting on October 27th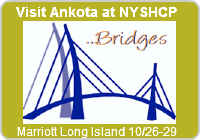 and 28th.. The conference will be held at the Marriott Long Island Hotel and Conference Center in Uniondale NY. The theme for the annual conference is "Bridges."
In addition to exhibiting, Ankota CTO Ken Accardi will deliver a presentation entitled "Technology and Inbound Marketing Booster Shot," which will teach the participants how to get better results from their web sites and about new technologies they should be aware of. Ken will join other speaking faculty for the conference including Ellen Bolch, President of The Healthcare Alternative (The THA Group) and author and speaker Chip Madera. The speaker bios are available at http://www.nyshcp.org/content.aspx?id=5990
"We have our best attendance at our shows on Long Island" explained Phyllis Wang, president of the New York State Home Care Providers "We're excited to have Ankota returning to the conference as an associate member and excited to welcome Ken Accardi as a speaker." See Video Highlights of last year's HCP meeting below.
NYSHCP members are primarily comprised of non-medical home care providers who assist clients with activities of daily living (ADLs) and provide paraprofessional support to certified nursing services. Ankota provides a comprehensive management system for these organizations, that offers the following features and benefits:
Web-based scheduling that matches workers, schedules, and skills to patient/client needs
Advanced constraint checking (for example to make sure that the visit is in the Medicaid approved window)
Care plan checklists for each patient or client
FamilyConnect so that the agencies can provide better communications to the loved ones of the people that they care for
Real time tracking of workers via telephony and/or smart phones
Billing and Payroll calculation
You can learn more about Ankota at www.ankota.com or by calling 800.909.9866.
About Ankota
Ankota is a leading service provider of innovative, technology-based software for home care management. The company is a pioneer of next generation SaaS solutions for Healthcare Delivery Management (HDM), Private Duty, Durable Medical Equipment (DME), Physical Therapy and Home Infusion markets. Ankota is committed to improving the quality and efficiency of health care outside the hospital setting.
Ankota's suite of solutions includes: "delivery model" optimization - automating complex scheduling requirements; telephony and web-based tracking of patient visits and health status; paperless trails for supervision and audits; billing systems integration; and accurate, real-time reporting. Ankota's Family Connect, a secure web-based tool, ensures patient families are always one click away from knowing their relative's health and well-being.
Founded in 2008, Ankota, Inc. is based in Baltimore, Maryland with offices in Washington, DC, Philadelphia, New York, Boston, Chicago, Dallas and Minneapolis. For more information please go to http://www.ankota.com/.