When Ankota's CTO, Ken Accardi, asked for a day off last Friday I figured he was taking a long weekend vacation. But no... Ken travelled to New York city to mentor CEOs from European Medical Technology companies...
Ken worked at GE Healthcare with Mathieu Petitjean. At the time, Ken was the Chief

Information Officer (CIO) for GE's global service business and Mathieu was the Chief of Operations for Europe, the middle-east and Africa. Today Mathieu runs the company MedNest which is an incubator for medical technologies, focused specifically on Convergence technologies that combine medical devices, pharmaceuticals and information technology. One of MedNests programs assists medical technology companies from other nations to create partnerships and formulate market entry strategies for bringing their technology to the US. The programs last week were organized in the New York metropolitan area and in Minnesota. Ken previously worked with MedNest to organize a similar program for eHealth entrepreneurs in Boston (and with great help from Joe Ternullo from Partners Healthcare Center for Connected Health).
Ken worked on Friday with CEOs from the Austrian Company Spantec, a maker of telehealth technology that is preconfigured so that installation in the home is just a matter of plugging it in. Ken also worked with the French company Normind. Normind has created a decision engine that can assist doctors in making the best possible medical decisions based on available case data.
"It's always great to work with intelligent entrepreneurs from around the world." explained Ken. "What a day is was, with meetings in the Austrian Embassy, the offices of Hodgson Russ overlooking time square, and the Maison de la Region Montpellier."
A press release issued today from the team in France is attached (click on the image below).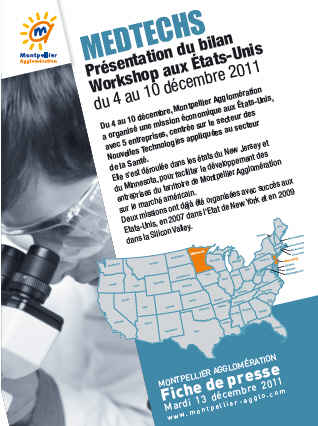 Ankota provides software to improve the delivery of care outside the hospital. Today Ankota services home health, private duty care, DME Delivery, RT, Physical Therapy and Home Infusion organizations, and is interested in helping to efficiently manage other forms of care. To learn more, please visit www.ankota.com or contact Ankota