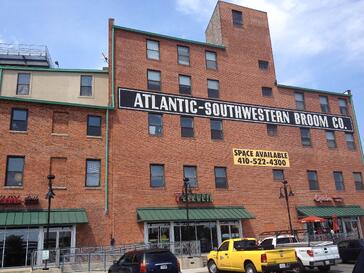 Ankota is pleased to announce the opening of its new headquarters in Baltimore's vibrant and historic Canton district downtown. Located in the historic Atlantic Southwestern Broom Factory Building at 3500 Boston Street in the heart of Canton, Ankota is now centrally located in the area that has come to represent Baltimore's rapidly growing technology and healthcare sectors.
"It's an exciting location with ready access to major highways and BWI airport," said Marc Ottinger, Ankota's Chief Operating Officer. "It's such a cool industrial renovation to be in and I love the energy in Canton," said Mary Pat Friedman, Ankota's Director of Customer Experience, and who happens to be the company's newest hire. "Our customers and partners who have already visited the new office really love it."
The move was needed to accommodate the company's impressive growth during 2012 and hiring plans in 2013. "We're growing fast," said Ankota CEO Will Hicklen, "We needed the larger space to support the growth of the company as well as the culture of performance and fun that we'll always be known for."
Ankota's new address is 3500 Boston Street, Suite 437, Baltimore, Maryland 21224. All other contact information remains the same. To learn more about how Ankota's technology helps hospitals, ACOs and post acute providers to operate more efficiently and coordinate care transitions please contact Ankota usoing this cool blue button