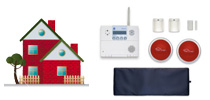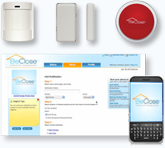 In a related piece, the Veterans Administration Proves Home Telehealth Works for Everyone—Payors, Providers, and Patients. From Tim Rowan's Home Care Technology Report (11/17/09): Titled "Care Coordination/Home Telehealth: The Systematic Implementation of Health Informatics, Home Telehealth, and Disease Management to Support the Care of Veteran Patients with Chronic Conditions," a report detailing results of a four and a half year study should be required reading for every home care agency owner, every clinician and especially every state and federal lobbyist. It declares without bias and without vendor influence that use of home telehealth systems had the following measurable effects for 17,025 patients over nearly five years:
Reduced bed days of care by 25%
Reduced number of hospital admissions by 19%
Added $1,600 per annum cost to per patient average of $13,121 for home-based care
Avoided $77,745 annual nursing home costs with this $14,721 investment
The paper's onerous title notwithstanding, the lessons from the VA's success are clear. A proactive program of home-based care and monitoring that allows the patient to spend more time at home results in
Fewer hospitalizations
Less time per visit in the hospital
Lower overall healthcare delivery costs
Ankota is not a telehealth company (we develop Healthcare Delivery Management or HDM technology that helps home care businesses better coordinate and utilize staff while cutting operating costs). However, telehealth and home monitoring technologies have been proven to be valuable tools in managing care at home. This VA report is the most comprehensive ever published on the topic, and provides compelling data that will certainly help advance adoption.
Without question, these technologies will be an important part of the home care ecosystem, which includes providers in Home Health Care, Private Duty Home Care, Respiratory Therapy, Home Infusion, DME and other companies that provide staff, equipment and supplies to support patients in the home.
From a simple economic perspective, these technologies offer the opportunity to scale various home care services with less overhead and infrastructure costs such as staff and travel time. In an industry that desperately needs to increase staff utilization and efficiencies, and fuel growth, this is a welcome development.
A few things to consider: As Home Health, Private Duty, and Respiratory Therapy companies—Ankota's customers—add telehealth and home monitoring services, they should expect that this will also require some new management discipline and add complexity to their businesses. Consider that providers will have to coordinate delivery, implementation, service, and recovery or disposal of equipment in addition to providing or provisioning monitoring services. This brings a component of physical distribution that must be managed, much like a DME company faces today. Staff, delivery and fuel expenses can be optimized through HDM technology like Ankota's. Consider also that, as these devices proliferate, so will the need to "monitor the monitors." New skills will be needed and new processes managed. Expect command and control interfaces to emerge that allow providers to aggregate disparate monitoring technologies, manage responses, and assign staff for follow up based on established best practices.
Telehealth and home monitoring technologies have been proven effective and present new business opportunities for providers. The benefits to patients and healthcare delivery models will be considerable, but will also require a disciplined approach to process management. Look for tools to help do this job more efficiently.
Related Links
Click here for Tim Rowan's Home Care Technology Report
BeClose (Vienna, VA) Remote home monitoring, elegant simplicity for family members to monitor home activity. There is a good report on this on the Aging In Place Technology Watch website
Honeywell Hommed One of the better established telehealth companies
GE-Intel related article: http://futureofaging.aahsa.org/2009/04/intel-ge-team-to-develop-telehealth-technology/
Cariocom download a white paper titled "Ten Steps to Building a Successful Telehealth Program"