Adult Day Care (ADC) vs. Adult Day Healthcare (ADHC) vs Adult Day Services (ADS)
Adult Day Care goes by several different names where the distinction generally has to do with whether there is medical care provided or not. The key definitions are as follows:
Adult Day Care (ADC) provides meals, activities and companionship but generally does not provide medical care.
Adult Day Health Care (ADHC) generally has medical professionals on site in addition to providing for basic social needs.
Adult Day Services is a broader team that encompasses both Adult Day Care and Adult Day Health Care.
Note that there are a lot of Adult Day Services that are more specialized. Some examples are as follows:
Adult Day Memory Care Specializes in care for individuals with cognitive disabilities such as Alzheimer's disease and other forms of dementia.
PACE programs: PACE stands for Prgram for All-inclusive Care for the Elderly and it's mission is to provide care in the community to individuals who would otherwise need nursing home care.
As you'll see in this Google search for Adult Day Care in Tavares Florida (where my 86 year old mom lives), there are many different names that are used for adult day care centers.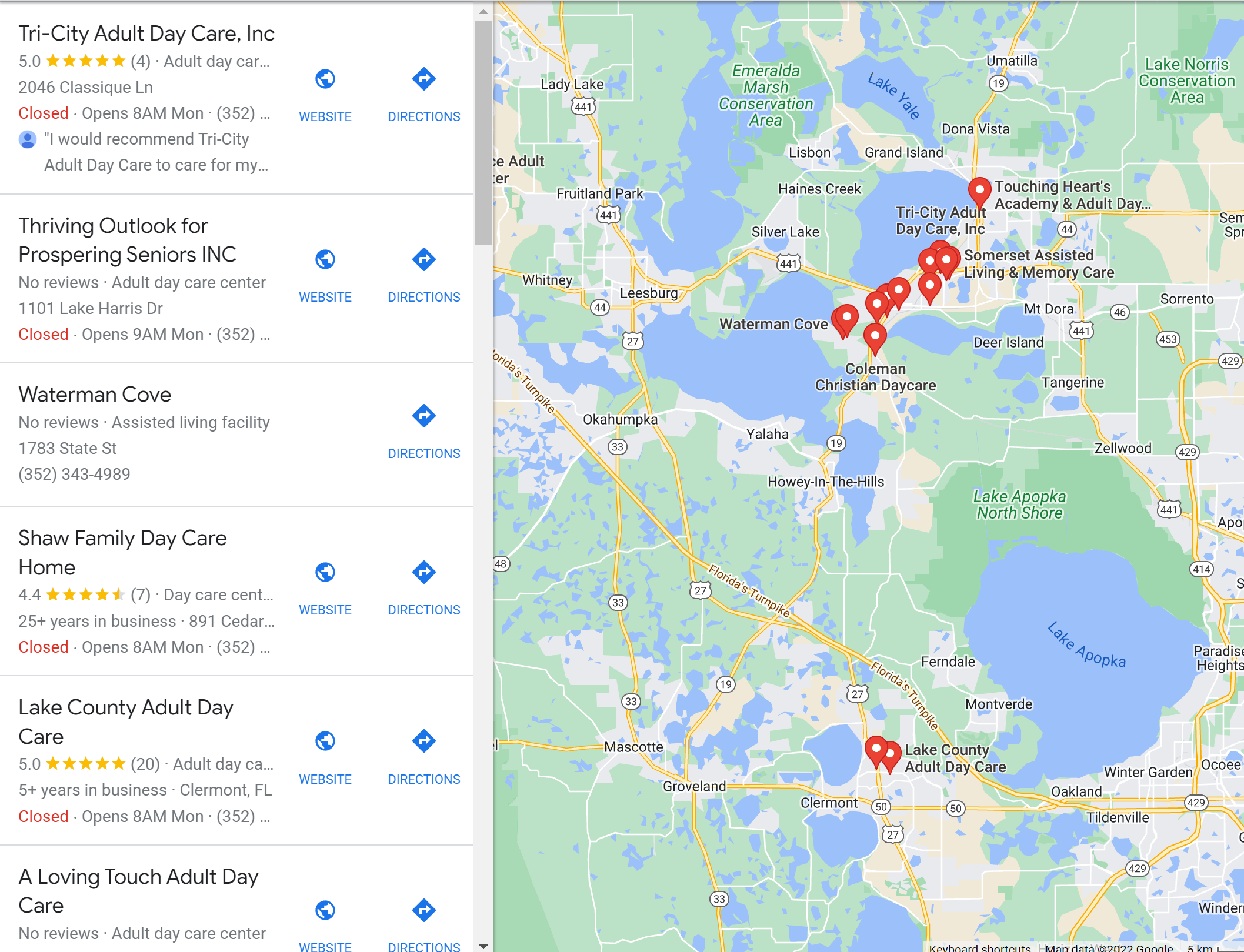 In this case "Adult Day Care" seems to be the most common but a few interesting observations are that we also see assisted living facilities and family day care centers coming up, and that one of the center names "Thriving Outlook for Prospering Seniors" decided not to use any of the common titles in their name.
Adult Day Service Guides for each of the 50 States
Below we offer a state-by-state guide to the licensing requirements for adult day care centers. The reason for the state-by-state guide is that each state regulates differently and one of the primary payers (Medicaid) is administered on a state by state basis.

Why should home care agencies add Adult Day Care?
Here at Ankota, we started our business by offering software to home care agencies who send caregivers to individual homes. Over time we encountered more and more agencies who also have adult day care centers and that's why we created our Adult Day Care Software offering. But now that we're serving both markets we see great synergies, as follows:
It's often the case that elderly adults choose to participate in day care before requiring home care, so having an adult day center can get you clients earlier who will stay with you longer.

The toughest challenge in home care is recruiting and retention of caregivers and, of course, with home care you need to send one care giver to each home. By contrast, in an adult day center you generally need one caregiver per 4 participants, so you can provide care to more participants with fewer caregivers.

You also know that sometimes caregivers join you and participate in training that you pay them for, but then as soon as they get into the home with a senior they realize that either a) this isn't for them, or b) that they feel totally unprepared and overwhelmed. Having an adult day center gives you a training ground for new caregivers where they can interact with elderly clients as part of a team. This is a great way for them to build familiarity and confidence with home care work.

Moving to the sales side of homecare, the fastest growing agencies are the ones who can meet the family right away and who can staff cases right away instead of in a matter of weeks. Having a staffed adult day care center affords you the possibility of having senior people who can go meet a family to do an assessment, and having caregivers in training in the centers gives you paid staff that's ready to deploy.

Lastly, the biggest reason that caregivers leave agencies is because they are looking for a certain number of hours of work and the agency isn't getting them enough hours. An adult day care center gives you another way to get your caregivers up to the number of hours that they want.
Choosing an Adult Day Care Center (for consumers)
Having recently enrolled my mother in an Adult Day Care center in central Florida, I have first hand experience on this topic.
Here are a some key considerations when choosing adult day care:
Level of Care: My mom is 86 and has Alzheimer's disease so a top consideration was to find a center that specializes in memory care. You should consider whether you need "medical" care or more of a social day care program.
Payment: In our case, my mom has long term care insurance that covers the cost of adult day care. Other families may be eligible for Medicaid to pay for Adult Day Care in which case they should seem a program that accepts Medicaid. If neither of these apply, it's likely that you will need to pay out of pocket (perhaps from your loved one's savings).
Location and Transportation: A next consideration is the location of the center and whether they offer transportation to bring your loved one to and from the center.
Programming: Review the activities and services that are available at the center and make sure that they are well aligned with your loved ones abilities. Note that most centers will allow you to participate with your loved one for
Hours: Some centers are open 7 days a week whereas many are only open Monday through Friday. In addition to the days, there is a question of time within the day. Some center do a 4, 5 or 6 hour session, while others have a morning session and an afternoon session. Make sure that the hours correspond to your needs.
Quality: There are many aspects to the quality of a center. Look at reviews and testimonials, ask for references, check for staffing ratios and whether there is always a nurse on site, and finally be sure to review their policies.
Adult Day Care Software
What software do you need to run your adult day care center? The answer is... it depends! There are a lot of differences driven by states (primarily based on Medicaid requirements) and then there are differences driven by the way that different centers have chosen to run.
Here's a rundown of the key features needed in Adult Day Care software:
Attendance Tracking:

Some programs bill by the "session" whereas others bill by the hour or by the 15 minute Medicaid unit. Many programs require a participant signature. In programs that bill by the hour or unit, they also require a "clock-out" at the end of the day.

Activities: Some programs require activity participation to be tracked for each participant and day. Additionally, some programs require tracking of each participant's level of engagement. Some programs publish their activity calendar but don't need to track activities at the participant level.
Meals: Many programs require tracking meals in a variety of ways. Some programs, for example, provide breakfast, a snack and lunch and they must indicate which participants had each of the meals offered. Further, some programs require the center to indicate what percentage of the meal was consumed.
Telehealth: Some programs allowed (or required) centers to have telehealth sessions with their clients during Covid and perhaps beyond.
Transportation: Some centers provide transportation to their participants. For centers who provide transportation with their own vehicles, they need to assign participants to vehicles and to create routes. Others need to track 3rd party transportation services.
Assessments: Many programs require periodic, or at least 1-time client assessments and the ability to schedule them.
Billing: The software needs to create bills or at least billing reports that can be entered into a separate billing program or clearing house.
Staff Timekeeping: Staff timekeeping and payroll calculation is needed by some centers.
Trusted Resources for Adult Day Services Information and assistance
Here are some sources of information and services who are trusted in the realm of Adult Day Services: