I'm a big fan of Laurie Orlov who writes the Aging In Place Technology Watch. Laurie is a tremendous authority on technology for the elderly. She's a frequent conference keynote speaker and has even been called upon to speak to the US Congress on aging in place matters.

Market Overview for Aging in Place 2016 is Now Available
Laurie has released a market overview report that is available here. In addition to the report itself, she just published an article of five key takeaways from the report. Below we list her five key points, but this is clearly a case where you should read the full article, and perhaps even the full report.
5 Takeaways from Aging in Place Tech Market Report
Laurie's 5 key takeaways are as follows:
Aging in place is becoming a necessity rather than a goal

The demand for caregivers creates problems and opportunities

Wearables will matter

The 75+ population is getting to be "good at the Internet"

Simplified and senior specific devices lack a long term market
Again, consider reading the full article.
The Demand for Caregivers
The statistics on the aging population and the reduction of potential caregivers is somewhat staggering. You can view them visually here: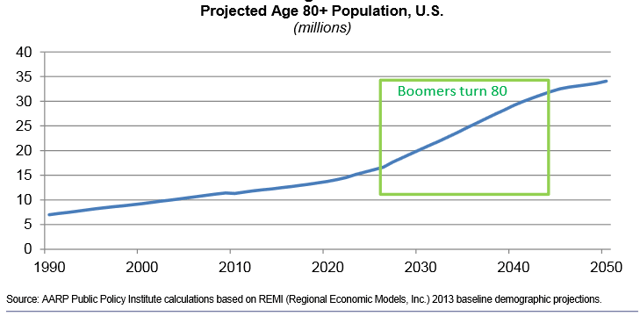 For this reason, Ankota focuses on ways that you can provide care to a large population with fewer care givers. This includes our newest product Foresight Care, a senior-friendly and affordable way to check in with your client base and be alerted if they are exhibiting symptoms that can cause a hospitalization. You can learn more by clicking here:
Ankota provides software to improve the delivery of care outside the hospital, focusing on efficiency and care coordination. Ankota's primary focus is on Care Transitions for Readmission avoidance and on management of Private Duty non-medical home care. To learn more, please visit www.ankota.com or contact us.