Steve Jobs, the inspirational leader of Apple Computer recently passed away but left an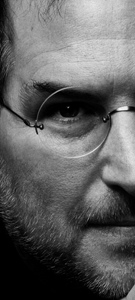 incredible legacy. I first remember seeing Apple Computers in the 1980s, but recently Apple has really captured the hearts and minds of technology users with the Mac, the iPad, the iPhone, The new iPhone 4S (the one that responds to vioce commands) and even the iPod and iTunes store which have revolutionized the way people buy music.
Ankota developed our home care software to run on the Mac and the iPad
Ankota began developing our products in November of 2008 and from day one we knew that we needed to run on the web, support both Mac and PC, and use what the web brings to enable coordination of care. This is what inspired us to make sure that we run on the Mac, and many of our clients are using the software on their iPhone and iPad.
Why doesn't your home care software run on the iPad or the Mac?
In general, software is developed to work in the best environments available at the time it is released, and software companies need to rearchitect the software every several years to keep up. A lot of the software in home care was developed when the best technology was called "client/server software". Client/Server software is installed on a local PC in an office. As such, it can only be run in the office, it requires the user to do backups and upgrades, and its performance often slows down over time.
Today, the best practice is to develop software, including home care software and most other types of software, that runs on the web in a model called cloud computing or software-as-a-service (SaaS). In this model, a smaller number of shared computers on the web can serve more customers and give them faster performance. Plus the software company provides the backups, improvements and new features for you as they evolve. Plus they add and upgrade hardware over time to improve performance. There are risks in this model as well. For example, you need internet access to use your software.
As recently as 5 years ago, this new model was considered too risky, but now it has become the norm in software, including in financial services and in healthcare.
We advise people to look at what you're able to do with consumer electronics and expect your business software to be 1 to 2 years behind. Most of you have likely been getting your email and paying your bills on the web for the last several years. So it's time that your software can do the same.
Ankota provides software to improve the delivery of care outside the hospital. Today Ankota services home health, private duty care, DME Delivery, RT, Physical Therapy and Home Infusion organizations, and is interested in helping to efficiently manage other forms of care. To learn more, please visit www.ankota.com or contact Ankota