In "How to Improve Delivery Operations Management," Dave Kopf, Editor of HME Business writes, "One of the major elements of HME business overhead is running delivery and repair fleets and their supporting operations. It is a staff-intensive, and involves continuing regular capital expenditure for fuel and repairs, as well as depreciating assets — the vehicles — that need to be regularly replaced."
It's on every HME's mind: How Can I Cut Costs

Now

?
Kopf points out that the practice of managing deliveries and planning routes consumes a good amount of staff time, which also means more overhead. The HME industry has been grossly underserved with technology until recently, and most HMEs are still in the dark ages when it comes to leveraging technology.
Managing deliveries is both complex and expensive. Kopf and other experts note primary costs to consider, below. Ankota offers additional guidance on how technology can address and reduce these costs directly. I cannot speak for other software companies, but in our experience with Ankota's HME Optimization technology, these results can be achieved in less than one quarter, even making the system self-funding.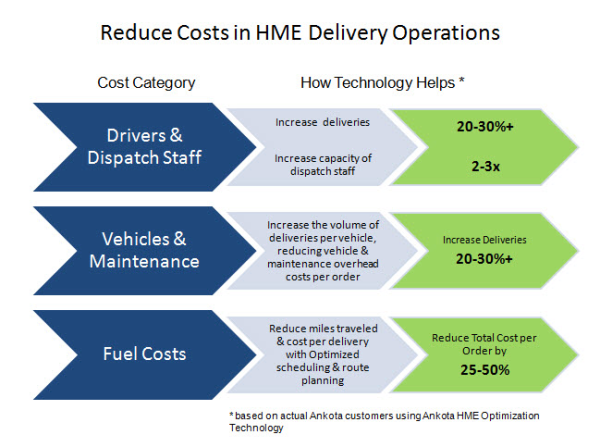 It's a matter of survival. With reimbursement cuts, many HMEs are certain to fail. Technology MUST be leveraged immediately to improve profitability and allow providers to survive and grow with fewer staff. It's all about productivity improvement and that is best achieved through automation.
A few more things to consider when choosing a system:
Get rid of paper now. Does the system provide a "closed loop" electronic process? You can initiate orders, plan and track staff, vehicles and deliveries (including signature capture), generate invoices and payroll -- all electronically. Your billing and payroll should be done instantly as a result, further reducing staff needed to support operations. It is not unusual for an HME to consume .5-.75 FTE filing delivery sheets, or scanning and attaching them in another system. That process can be fully automated, saving a single office several tens of thousands of dollars in direct labor costs per year.
Scheduling & Route Planning: does the system simply create routes and maps based on the schedule? Or does it utilize optimization technology to schedule deliveries in such a way that the appointments and sequence in which deliveries are made are optimized, resulting in fewer miles traveled and lower fuel expense? You want the latter, for sure. It can reduce your cost per service order by 25-50%.
Integration with existing systems: Does the system connect with your order entry system so that your staff can avoid time wasting efforts like entering data multiple times? Same should go for integration with your billing and payroll systems (or services you use for these).
Finally, only use web-based technology that you can pay for on a monthly or quarterly basis. The technology will serve you far longer, will provide greater innovation, and you can always hold the vendor's feet to the fire when issues come up. Good web based products will also support offline use and syrchronize when you have a connection.
Delivery of Home Medical Equipment (HME/DME) is critical to the overall success of the healthcare system. HME Providers must utilize technology to maintain viabillity and survive resimbursement cuts. Technology can be used to improve profitability quickly and put HME providers in position to participate in Coordinated Care and Accountable Care models. Without Care Coordination technology that ties delivery operations to those who plan and authorize care, HMEs will be left out.