The entire healthcare world has known for a long time that yesterday was coming: the day that CMS started penalizing hospitals for what are called avoidable readmissions. That's right--THAT just happened!
The problem is massive, and now, very well documented: 20% of patients are readmitted to hospitals within 30 days of discharge, and 30% are readmitted within 60 days, for reasons that are considered to be entirely avoidable. The costs are staggering: CMS reports that this problem costs taxpayers $25 BILLION annually. Clearly, it's a cost and quality problem that has to be addressed.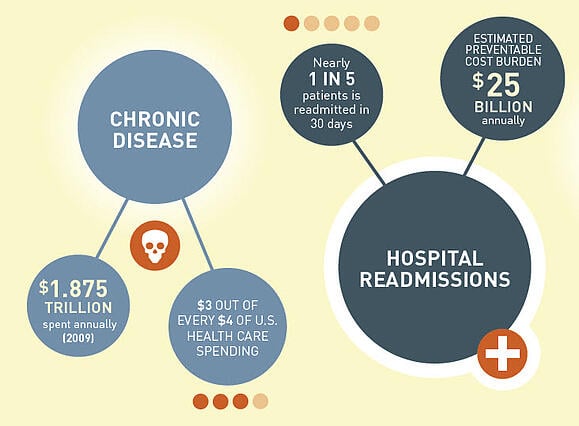 Some hospitals have already been working towards improvement through projects to better manage care after discharge, often called Care Transitions projects, and by undertaking Population Health initiatives that attempt to provide care to patients proactively in the community and at lower costs before their health results in a costly ER visit. Programs such as Patient Centered Medical Home (PCMH) are aimed at addressing these problems, too. CMS has encouraged systemic innovation by funding $1 BILLION in grants such as the CMMI Innovation Challenge Grants that are also aimed at addressing this problem. The $20M Johns Hopkins Community Health Partnership, or "JCHiP," is one such example of community based care management (CBCM) models that are gaining traction. Contact Ankota to learn more about the technology used to manage innovative care models like JCHiP.
As this related AP article describes, the economic impact of the penalties is clear.
The penalties start at 1% of a hospital's medicare receipts and rise to 3% over time. CMS has anaylzed hospital results for the years leading up to & which determine the penalties, and calculated that many penalties will start in the high six figures to low seven figures in the first year alone. CMS estimates that about two-thirds of the hospitals serving Medicare patients, or 2,200 facilities, will face penalties averaging around $125,000 per facility this coming year. For an industry that typically operates on 1-4% margins to begin with (with many hospitals losing money every year), these penalties are a punishing blow and escalate quickly to force continuous improvement.
"There is a lot of activity at the hospital level to straighten out our internal processes," said Nancy Foster, vice president for quality and safety at the American Hospital Association. "We are also spreading our wings a little and reaching outside the hospital, to the extent that we can, to make sure patients are getting the ongoing treatment they need." Foster is referring to the many programs and collaborations among provider institutions to provide services proactively in the community in an effort to keep them healthier and out of the hospital longer. This is especially important for those with chronic conditions that are better managed at home, anyway. As the chart above indicates, chronic conditions account for $3 out of every $4 spent on healthcare today. These programs require new care delivery models--and technologies--that allow providers to share care plans and coordinate roles and responsibilities among multiple providers, including hospitals and ACOs, Primary care physicians, and the entire world of post acute care.
Collaborations of providers are organizing into "ecosystems," and Ankota is leading the way with technology that helps them Plan, Coordinate, and Deliver care that reduces costs and improves patients' lives. To learn more about how Ankota is helping Hospitals and ACOs and coordinating needed post acute services (such as home health care, physical therapy, infusion nursing, HME delivery and Home Care), contact us using the fun, orange button below