Ankota Technology helps manage Care Transitions, Community-based Care, Population Health, Accountable Care, Transplantation, and Patient-Centered Medical Homes (PCMH)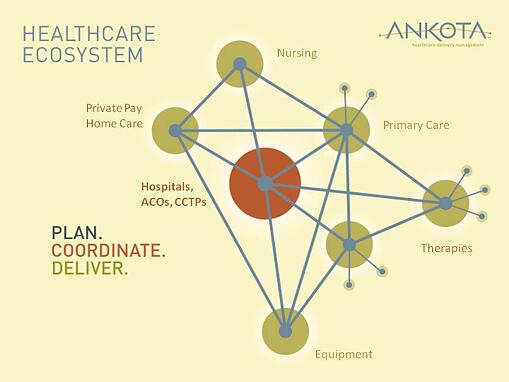 Healthcare Provider Ecosystem
$25 billion spent annually on Avoidable Readmissions; the alarming Rise of Chronic Diseases—which accounts for $3 out of every $4 spent on healthcare; and the Aging of the Population, where 1 out of every 6 Americans will be 65+ by 2030. These trends are giving rise to new programs that employ innovative care delivery models aimed at improving outcomes and reducing overall costs.

The rise of Accountability and health care reform assure that more care will be delivered outside of hospital settings and the complexity of that care continues to increase. Providers must collaborate to Plan, Coordinate and Deliver care, requiring new processes and new technologies to support them. Providers are forming collaboratives that will rapidly emerge as "ecosystems," which will be responsible for managing workflows among providers.
Ankota's technology is already helping the nation's top health care providers address these problems head on. By organizing providers into ecosystems, collaborations of providers can operate in fully integrated service models that are patient-centered, well-defined and well-managed. They Cooperate on Transitions, Care Plans, and Delivery of Care. Providers deliver better care with better results and Reduced Readmissions. Patients with chronic conditions are managed in community-based or Patient Centered Medical Home (PCMH) models, which keeps them healthier and out of the hospital for longer. The elderly are better supported so that they can remain in their homes longer and live healthier, happier lives. All of this improves lives and lowers the overall cost of care.


From Hospital to Home, Ankota's technology provides the infrastructure and workflow tools to manage transitions and optimize delivery models – coordinating providers and automating complex scheduling requirements, care planning and real-time tracking of patient visits and health status. Paperless trails for supervision and compliance are integral. Ankota integrates with existing EMRs such as EPIC and Cerner, and leading Care Management Systems (CMS) to leverage the best that technology has to offer. Ankota's software is available by subscription and delivered via a hyper-efficient and highly secure Software-as-a-Service (SaaS) model. Secure, reliableand fully mobile, Ankota's internet-based products deliver state-of-the-art optimization of staff and resources that reduce operating costs and improve patients' lives.
Are you ready to Plan, Coordinate, and Deliver better care?
Contact Ankota and we'll show you how.