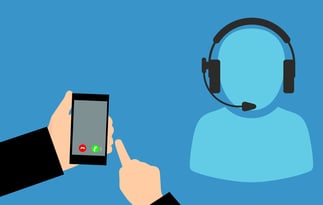 I feel it's fair to say that most folks don't generally look forward to calling technical support for an issue they're having with a product or service they use...maybe it's just me, but I feel that it's probably not.
That said, while we might have a story or two about an unsatisfactory experience with the technical support for a product or service, for me, when I think about it, I also have a fair amount of stories about stellar technical support I received as well.
That got me thinking that a good article for Ankota's blog would be to write about tips for helping folks through the technical support process. My goal was to help make the process smoother so that folks can get their questions answered and their technical issues solved as quickly as possible...and have the overall experience well exceed their expectations.
I just wasn't sure how to go about that. So, I reached out to Kristy, a colleague on Ankota's technical support team, and asked her to give me the top tips and suggestions she felt would best help customers get their technical issues resolved.
Here are the top tips and suggestions that she offered:
Provide Examples of the Technical Issue
When I call technical support with a technical issue, I'm in a "problem solving mindset", but I don't always have specific examples of the issue, I just know that something isn't working.
The first time-saving tip is to provide an example or two of what you are trying to accomplish. For example (an example of examples, fun!) here are a few ways to provide your technical support representative the information they likely need to troubleshoot the issue:
"I am trying to "do X" And it is not working because "Y" and I am on this screen when "Z" occurs (or doesn't occur)".

Provide relevant info such as names, dates and times, screen titles, buttons, in what browser or internet portal, and so on.

Specific examples of "where" and when the issue is occurring in your experience with the issue.
Related to that, it is helpful to give examples of what you are trying to accomplish.
"I am trying to schedule a visit"

"I am seeing this error message when I try to…"

In what platform are you working? Are you on Chrome, iOSs, mobile app?
Screenshots of the Issue
Providing screenshots is a great way for technical support to understand and recreate the issue you're calling about as well as a way for you both to "be on the same page" with the issue that's occurring.
If you're not sure how to get a screenshot from your computer, here are a few links to tutorials:
Windows: https://www.cnet.com/how-to/8-ways-you-can-take-screenshots-in-windows-10/
Mac: https://support.apple.com/en-us/HT201361

iPhone: https://support.apple.com/en-us/HT200289

Android: https://support.google.com/android/answer/9075928?hl=en

Also, this screenshot app here is a favorite of the Ankota support team for a PC: vhttps://app.prntscr.com/en/index.html
Take a Note or Two
If you are unable to get a screenshot, j
otting down a few notes of the steps you were taking and what the resulting issue appeared. As mentioned above, n
ote things such as: Screens you are working in, clients, Names, dates, and times.
Save Time by Summarizing the Issue
A great way to save yourself some time is to let technical support know the steps you may have tried already to solve the issue, for example, noting things such as:
1. I have logged in and out
2. I have tried another browser
3. I have double checked the client information to make sure it is correct
4. Other steps you may have tried.
In short, the more information you're able to give them, the better (and faster) that technical support can help you resolve the issue.
------
Do you have any tips or suggestions that you'd like to share with others about how best to interact with technical support? Any success stories or experiences that exceeded your expectations? Additional questions on the topic? Please let us know in the comments!
If you have questions, comments, or suggestions for us, or if there are other ways we can bring value to you,
please reach out!
Ankota provides software to improve the delivery of care outside the hospital, focusing on efficiency and care coordination. Ankota's primary focus is on Care Transitions for Readmission avoidance and on management of Private Duty non-medical home care. To learn more, please visit www.ankota.com or contact us.