One of the industry experts I learn from every time we speak is Ginny Kenyon, principal at Kenyon Home Care Consulting. Ginny helps open home care agencies and has given Ankota great inputs on our software. We at Ankota strongly believe that keeping elderly people healthy and comfortable in their homes (and out of the hospital) is an important step in the evolution of healthcare. Ginny is one of the pioneers driving moves in home health delivery. Enjoy her post (below).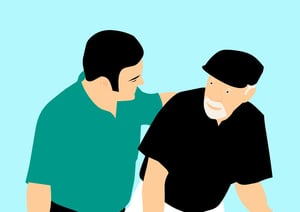 Providing long term care education for aides is one of the best ways to improve the quality of your organization. It increases employee satisfaction, improves client satisfaction, gives you an edge over the competition, and reduces your hospitalization rates – all which will save you money and make your organization a success. But how do you choose the right long term education program for your aides? Here are five things to consider when making your decision.Long Term Care Education
First and foremost, you need a program that is easy for caregivers to access. Is the one you're considering offered online? Online availability allows content retrieval 24/7, so learners can assess information at their convenience to meet their individual learning needs. Most full-time caregivers have family and community responsibilities outside of work that consume their time. Flexibility around other obligations is a must when choosing education for your busy caregivers.
Subject Matter Provided by Long Term Care Education
When choosing an education program, always consider the level and amount of information offered. Content should build upon student's current knowledge of client care but should also provide advanced education including management of chronic diseases. Providing caregivers training in specialized chronic disease care, helps set your organization apart and offers an immediate return on your investment. Creating an elite pool of specialized caregivers will push your organization ahead of your competition.
Long Term Care Education's Ability to Reduce Hospitalization Rates
When contemplating advanced education for your aides, determine your organization's current hospitalization and rehospitalization rates. If you currently struggle with high rates, you want to participate in a program that provides the necessary knowledge to reduce those numbers. Properly educated caregivers are better aware of warning signs to look for in order to manage health concerns before they get escalate to the need for hospitalization.
Employee Satisfaction and Long Term Care Education
Employee turnover is a real issue for most healthcare providers, and can be devastating to your bottom line. While some turnover is to be expected, too much costs your organization valuable time and money. Providing an opportunity for employees to advance their education is a simple, efficient way to increase retention. With continued education, aides gain a career path and become more satisfied in their jobs, knowing there's opportunity for personal growth. Consider if the education program you choose educates caregivers enough to impact your current recruitment and retention rates.
Improved Client Care as a Result of Long Term Care Education
Clients and their families are the backbone of your organization. What are you doing to ensure their satisfaction? Well-educated, content aides play a huge role in the happiness of clients. Not only because happiness is contagious, but also because of the higher level of care top-notch aides are able to provide. As a result, clients and their families sing the praises of your organization to their physicians and refer their friends. Everyone's happy; it's a win-win. To make the most out of your advanced education program, find out how well it prepares aides to offer the improved client care your clients demand.
Your organization doesn't have to stand still; it can soar above the rest with long term care education. Knowing what to look for in an education program puts you on the right track toward success.
This article entitled, "5 Tips to Ponder When Choosing Long Term Care Education" first appeared in Kenyon HomeCare Consulting blog.
If you'd like to learn more about managing a Home Care business, please download Ankota's free e-Book by clicking the link below:
provides software to improve the delivery of care outside the hospital, focusing on efficiency and care coordination. Ankota's primary focus is on Care Transitions for Readmission avoidance and on management of Private Duty non-medical home care. To learn more, please visit www.ankota.com or contact us.