We've recently posted a few stories about the power of checklists.
As we know, checklists are a best practice that nurses have embraced for a long time. We also use Home Care Telephony (using checklists for tracking care plans) as the primary mechanism for tracking the work of home health aides. Our first post introduced the book The Checklist Manifesto, by Atul Gawande. You can read it here. The second post gave a powerful example of the use of checklists in management of private duty care. You can read that post here.
But checklists aren't just for home care. The Checklist Manifesto focuses on the power of checklists for doctors. One of the best examples of this comes from Johns Hopkins, the home of Ankota's
chief medical officer, Dr. J Hunter Young, where checklists are used to improve the quality of critical care. We briefly mentioned in our last checklist post, that Dr. Atul Gawande claims that "If a new drug were as effective at saving lives as Peter Pronovost's checklist, there would be a nationwide marketing campaign urging doctors to use it". There's a New Yorker Article on this topic here.
We were asked to tell more about the story at Hopkins, so here goes... The state of Michigan used a five-step checklist developed at Johns Hopkins to virtually eliminate bloodstream infections in its hospitals' intensive care units. Not only did this work when introduced, but the state has been able to keep the number of these common, costly and potentially lethal infections near zero - even three years after first adopting the standardized procedures.
Peter Pronovost, M.D., Ph.D., a professor of anesthesiology and critical care medicine at Johns Hopkins University School of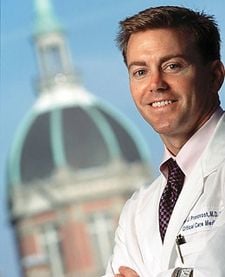 Medicine and a patient safety expert, says that the success in Michigan has significantly changed the way physicians think about central-line catheter infections. "Prior to our work, we thought these were largely inevitable infections and that they were simply a cost of being in the hospital," says Pronovost, the report's leader and the developer of the checklist. "Now we know they are universally preventable. We've reset the benchmark."
A more comprehensive version of this story is available on the Johns Hopkins website. You can read it here.
Ankota provides software to improve the delivery of care outside the hospital. Today Ankota services home health, private duty care, DME Delivery, RT, Physical Therapy and Home Infusion organizations, and is interested in helping to efficiently manage other forms of care. To learn more, please visit www.ankota.com or contact Ankota.