The Home Care Software Geek posts in this blog don't talk about Home Care Nursing Software, Private Duty Telephony, DME Delivery Software, Home Infusion Care Management or the other topics we focus on regularly at Ankota. Instead, these posts are intended to keep our readers up to date with technology trends that might be useful to your agencies, such as social media technologies, mobile devices, and what's happening from the big-boys like Microsoft, Google and Apple.
Sometimes I'm comforted to know that there are bigger geeks than me, as evidenced by this post... Below I present a piece of artwork that was created to show how the most visited sites on the web (roughly the top 300,000) rate against each other in terms of traffic. The bigger your icon, the more traffic you get. You can click on the diagram to go to the interactive version, that will let you search for icons.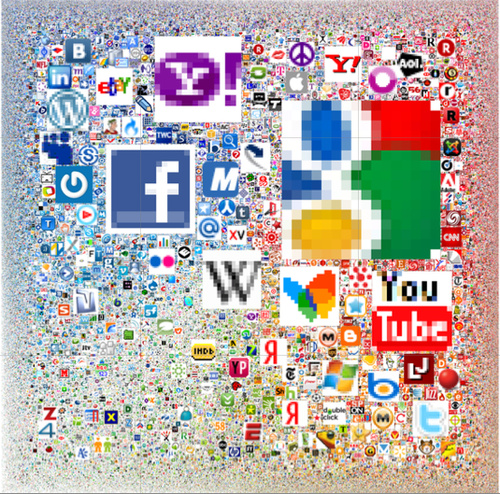 Some takeaways for home care agencies are as follows:
The web is huge
Your search rankings are somewhat dependent on how much overall traffic you get (e.g., if you have a web page optimized for the phrase "Home Care Bethesda MD", your ranking will be dependent on others who have also optimized for that phrase.
You don't have to be in the top 300,000 sites to still have a very valuable site. Here are a few benchmarks:

NAHC scored around 387,000 and didn't make it to the chart
Stephen Tweed's Leading Home Care site ranks in the 3 millions. If you've visited, you know that this is an outstanding site with fantastic content
I checked a very popular Private Duty Software company with 25 years of experience and a huge following of happy and loyal customers and they ranked in the 17 millions

The top sites like Google, Facebook, Youtube, Yahoo, Twitter and Bing are all places where our agencies can be found
If you want to know where your site ranks, shoot me a note and I can look you up.
Ankota provides software to improve the delivery of care outside the hospital. Today Ankota services home health, private duty care, DME Delivery, RT, Physical Therapy and Home Infusion organizations, and is interested in helping to efficiently manage other forms of care. To learn more, please visit www.ankota.com or contact Ankota.