The Home Care Software Geek posts in this blog don't talk about Home Care Nursing Software, Private Duty Telephony, DME Delivery Software, Home Infusion Care Management or the other topics we focus on regularly at Ankota. Instead, these posts are intended to keep our readers up to date with technology trends that might be useful to your agencies, such as social media technologies, mobile devices, and what's happening from the big-boys like Microsoft, Google and Apple.
Google is the most popular website in the world and has the most traffic. Have you ever wondered, however, what people are searching for at any given time? Google thought that you might, so they introduced Google trends. At google trends they let you know what the most popular searches are on the web at any given time. So if you look, for example, at what's out there this morning there's a lot of discussion of yesterday's election. Whereas, if you looked back on Monday some of the hot topics were a bank merger and Randy Moss (wide receiver in the NFL) getting cut from the Minnesota Vikings.
Here's a screen shot of the current search: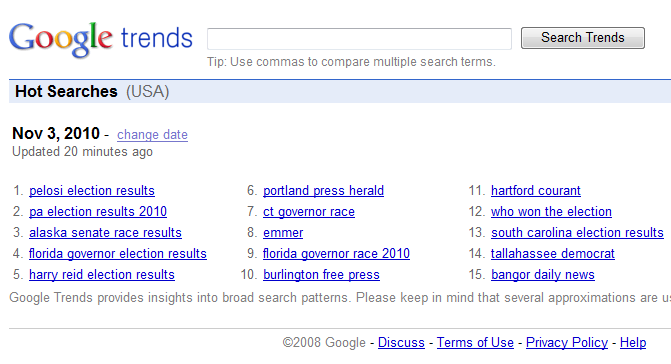 The tool doesn't only give you a list of what's being searched the most right now, otherwise things like weather would be on top of the list. Instead, it looks at hot searches relative to normal search volume. The other thing it does is to apply a filter on what it considers to be appropriate content.
To access google trends directly, you can go to http://www.google.com/trends/hottrends or cick on the image below:

Ankota provides software to improve the delivery of care outside the hospital. Today Ankota services home health, private duty care, DME Delivery, RT, Physical Therapy and Home Infusion organizations, and is interested in helping to efficiently manage other forms of care. To learn more, please visit www.ankota.com or contact Ankota.