I'm just bad luck... Last year around this time I had to cut short a trip with Thomas Jefferson University Hospital in Philadelphia when they shut down the office to manage a Blizzard, and yesterday I had to cut short a set of meetings with Johns Hopkins to get home before a massive snow storm hit the northeast, which it did (after posting this article, I'll go outside and start shovelling the roughly one foot of snow that's fallen so far here in metro-Boston). So I thought it would be appropriate to share information about managing home care in a snow emergency...
Here are some best practices that we've observed home care organizations follow to manage their operations in the midst of a snow emergency (and some things that Ankota's software does to help):
Move Appointments to Avoid the Times when travel is most inhibited: Ankota's scheduling board (screenshot below) shows you all of the planned jobs for the week on a drag and drop interface. so moving jobs forward or back is simple.
Make Sure that the jobs with critical timing are dealt with at the appropriate time: Visits such as "chemo finish" visits for a 48-hour chemo infusion have a very specific time frame for completion. Ankota's scheduling board let's you know if you've by attempting to move a visit you've violated a scheduling constraint.
Communicate the Changes to the Care-Givers: Ankota's software changes the visits to a different color when you manually reschedule, allowing you to tell your care workers what changed and what stayed the same.
Plan for Two people per car (in the event that it will be impossible to park and one person will need to hover): Although the Ankota software doesn't specifically have a feature for scheduling two people in the same vehicle, we have the ability to change the work shifts easily for the emergency workers and mark the others as unavailable (and to make sure that all of the time sheets come out right).
Keep non-essential personnel at home: Ankota's web-based software allows your office staff to operate from their home via their internet connection.
Communicate to the Loved-Ones of Your Patients: Ankota's FamilyConnect allows you to send a message out to family members of the people you care for. By proactively sending a message to all of the families, you can save time for your critical staff. Also, you can send messages to the families of individual patients/clients using the quick connect feature. FamilyConnect messages are received by email and/or text message (as selected by the family member)
Below is a screen shot of the Ankota Drag and Drop Schedule Board that allows you to see status and resolve issues at a glance.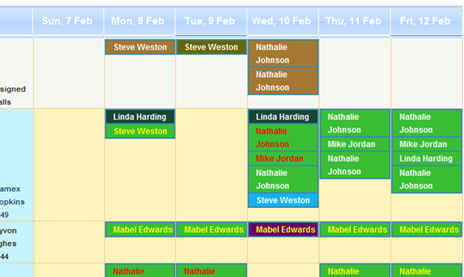 We thank you for all you do to provide outstanding home care, even during the thoughest conditions! If rescheduling was tougher for you than what's described above, please contact us so we can try to help.
Ankota provides software to improve the delivery of care outside the hospital. Today Ankota services home health, private duty care, DME Delivery, RT, Physical Therapy and Home Infusion organizations, and is interested in helping to efficiently manage other forms of care. To learn more, please visit www.ankota.com or contact Ankota