Finding home exercise programs is easy for super fit people, but the content for home Physical Therapy (PT) and especially home Occupational Therapy (OT) are harder to come by.
You might be here for one of two reasons: 1) You need PT or OT home exercises for yourself or a loved one. Or 2) you are a PT or OT and need a way to send your patients home with good instructions. We'll help with both:
I Need Occupational Therapy (OT) Home Exercises:
There are some good options for you on Youtube. We checked out a bunch and here are two that we recommend:
This first video will not receive any Hollywood awards for cinematography, but these two OTs put together an enthusiastic and practical program. Let's see if we can help them pick up their number of views:
This next video has a nice structure for you to follow. The gentleman who made it has some music on in the background, which is nice but his audio is a little bit hard to hear. The great things about this video are 1) It's easy (designed for seniors) 2) It has a nice structure and 3) It's easy to follow his motions.
I'm a PT or OT and need to give instructions to my patients:
Thanks to Ben Musholt, PT, we learn about a company called BPM Rx that let's you create exercise programs and printouts on line. Here's a video:
"Ensuring adherence to a home exercise program (HEP) is often a major concern of PTs and OTs when they are getting close to discharging a client," explained Ben. "I should know, I've been a physical therapist for almost 10 years and it's always a bit nerve racking to say good-bye to a patient when their goals have been met, but they still need to continue with an exercise routine. You want the best for your client, thus you're nervous that they could backslide on their progress after they've been discharged from your service."
"Will they keep going with their exercise routine?
"Did they understand and remember all of the movements correctly?"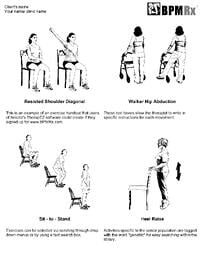 Being sure that a client is fully independent with his or her exercise routine is a crucial function of physical therapy, whether it is rendered in a clinic or a home-based setting. When clients taper off from their prescribed activities too soon, they may see a return of their symptoms, which they may attribute to PT not being successful; or worse, if they are in the senior/geriatric population, they may begin to regress in their functional status, and lose independence at home. As all physical therapists know, the solution to this predicament is to provide a HEP handout that illustrates which exercises are to be performed, how often, and at what intensity.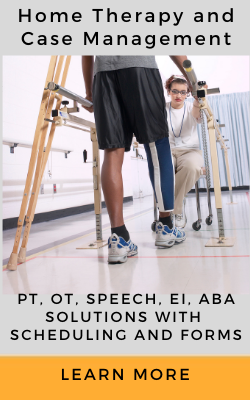 BPM Rx, Inc. is a web-based exercise prescription software company that provides therapists a mobile platform to issue exercise handouts to their clientele. Therapists can select from hundreds of exercises appropriate for geriatric patients, orthopedic injuries, balance skills, and surgical rehab. There is even a category of movements specific to activities of daily living (ADL) for occupational therapists.
What's unique about this software program is that it can be accessed from any computer or tablet device that has Internet access. That means that the therapist can browse through the exercise library while on-site with the client, and choose which exercises are most appropriate, then email a PDF to them, or print off a paper copy, once there is access to a printer. In addition, rather than utilizing pre-written instructions, the therapists get to write in personalized instructions and reminders, unique to each client.
Find out more about BPM Rx here: http://www.BPMRx.com.
Ankota considers home care providers who keep our elderly, disabled and recovering selves and loved ones living at home to be heroes. We strive to be the software for the heroes of home care. Ankota focuses on the tech so that agency owners can focus on recruiting and retaining the best care providers and growing their agencies. Learn more at www.ankota.com or contact us.