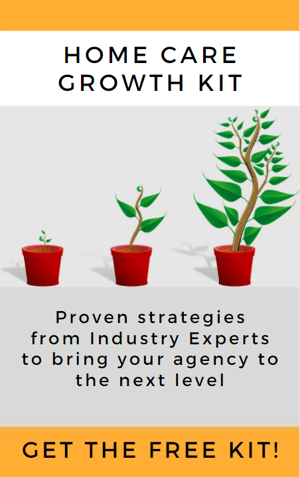 Welcome to the start of the Home Care Growth Kit! If you'd like to sign up to receive more articles like this to accelerate your business, please click here.
Our goal is to help take your agency to the next level of success and here's our first lesson:
The key is to make your agency stand out to the prospective clients and caregivers in your area. Let's dive in...
Who is looking for home care services?
Let's put ourselves in the shoes of the people who need your services. In a lot of cases, they need home care for the first time and they are looking for a solution. They're likely to Google Home Care <name of town> and they'll see a big list of responses from Google. At the top will be paid ads from big national franchises or maybe from your local competitors.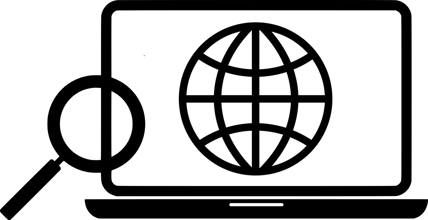 Have you tried this Google search for the towns that you serve? Are you on the first page? If not we'll be giving advice on this in a future installment of the growth kit, but for now let's assume that you are found...
When I see a big list of choices on Google, I might be comforted to know that the service I'm looking for is available, but a big list means a lot of work for me. You want your agency to stand out!
You only get one chance to make a positive first impression
A lot of home care websites are an immediate turn-off... If the site looks old or not nicely formatted there's a strong chance that folks will immediately click off your page. On the other hand, if the site is too polished and corporate, a smart viewer might perceive that it's the site of a national or large regional agency that won't give their mom the personal attention that you want for her.
Your goal is to find the balance. Be professional and polished while making it clear that you are the best choice for their mom's town.
How can I really make my agency different?
"Make your agency different" is classic business advice. You may have heard it before and thought to yourself that your service isn't really different. You provide a caregiver and so do your competitors. In fact, some of your caregivers work for your competitors. When you go to the ice cream stand everyone has vanilla, but vanilla doesn't stand out.
Start by thinking about where your passion for home care comes from. Here are some starting points:
I started my agency because I didn't like the care options that I saw when my mom needed care.

I started as a caregiver and I want to be the best agency for caregivers to work at.

I have a passion for caregiver training. A young caregiver will be lost without strong training and support

We make our clients feel like they are family. Especially during the holidays
If needed, take a pause and think this through. What would your top clients say about you? What would their daughter say about you. What would either of them tell their friends about why they selected your agency? Can you turn any of these things into your top message?
Home Care headlines that stand out
If your headline is "We provide in-home personal care services" then you're not likely to stand out. Let's consider some alternatives:
Our caregivers get 3 times as much training as the competition

Our clients tell us that we're part of their family

We are the undisputed local expert in caring for Alzheimer's and other forms of Dementia

We provide gift baskets and special programs for holidays and to make every day special

Most of our caregivers were referred by other caregivers because we're a great place to work

With our agency, you'll always know how your mom is doing
Success story
Kamran Nassar grew his agency, NuevaCare, so fast that he was listed in the fastest growing companies in America. His key message is to make your agency different. Here's how he did it:
Other ways to be different
Focus on a specific niche of home care recipients:

Specialize in an area that is unique like p

ediatric home care, care for individuals with developmental disabilities or another specialty. These specialties often require more hours (more revenue with fewer cases) and you can potentially even get home care competitors to refer cases to you for the specialty areas that you cover.

Target the High end of the market: Some agencies have differentiated by being significantly more expensive than others. We work with an agency in Michigan whose caregivers all have college degrees. They appeal to high net worth individuals such as retired doctors and lawyers who have the money to pay a premium and who appreciate the companionship of a highly educated care provider
Offer Proof that you provide exceptional care: Every agency says that they provide great care, but if someone goes to a site that has award, testimonials and statistics that you can back up, you'll stand out.
Specialize on Veterans: Everyone loves veterans and if you serve veterans, you'll make a positive impression. Also, billing the VA is tricky and clients would be wise to partner with an agency that knows how to get it done. A key point here (that we'll cover in a later installment) is that there are many potential sources of revenue for your business and some are under-served.
Provide Unique offerings that stand out and start conversations: Referring back to the podcast episode above, Kamran always found ways to tell stories that stood out with prospects. They offered an "art therapy" program where a trained artist would meet with the care recipient to help them form a beautiful piece of art that represented a special memory or life experience. The service was only used by a few clients, but it was a great conversation starter.
Learn more here:
Thanks for reading this article and jumpstarting your agency's growth journey. For a quick and shameless plug, Ankota wants to be your home care software provider. We consider home care professionals to be heroes, and our mission is to take care of the home care tech so you can focus on the "hero stuff" like providing great care, recruiting and retaining great caregivers and growing your business. If you'd like to connect, please click here.
Ankota is the Software for the Heroes of Home Care. We truly embrace the notion that caregivers and home care companies are heroes. Our top priorities simplicity, caregiver retention and outstanding service. Visit us at https://www.ankota.com.