Today's guest blogger is Christine Rudolf If you're looking for a way to illustrate to folks the value of home care, here are some tips:
When it comes to health, there is no compromise in this department and hence the rising trend of home care agencies has made this market highly competitive. With the old-age desire to age gracefully and preferably within the comforts of your own home, the in-home care agencies are expanding at a rapid pace. Hence it goes without doubt that you need to set yourself apart from the crowd and give your customers the reasons to trust their old one's health in your hands and service.
Customer Specific and Health-Targeted Services
Not every elder patient has the same ailment or is going through similar health conditions such that they can fall under a general category and be treated like everyone else. You need to convince your prospective clients that they understand your loved one's condition and will serve them to the best of their abilities. A quality home care agency prides on the fact that their services are customized as per the patient's mental and physical conditions. For instance, you could create meaningful exercises for patients with dementia to improve his cognitive skills but treat a heart or diabetic patient in a different manner.
Customer Care Service of Utmost Importance
It goes unsaid that happy clients lead to positive word of mouth, which can do wonders for your business. The service industry relies mainly on client satisfaction as without them you are nothing. Sometimes, one gets so involved in taking care of the substantial part of the service that we often forget to make the client feel at home with the personalized feeling you add to your services. Your clients will only recommend your personal care and assistance services to their friends and relatives if you effectively manage it and do not leave any stone unturned in creating that feeling of intimacy and interpersonal touch. Placing your clients on a pedestal is what drives you to success.
Going One Step Ahead with Accountability Checks
What you need to do is to make your clients know that their health concerns and safety comes first even before your business or profits. Trusting a loved one's responsibility in your hands is not an overnight decision and you have to give them all the reason not to regret their decision. If you value your caregivers and train and equip them in the best possible manner, the same value will automatically be conveyed to your clients, helping them place greater confidence in your services.
Carry out background checks and advertise specialty trainings that your caregivers undergo. Hire the most polite and eloquent caregiver, whose personality will create the major effect. A true caregiving agency that cares for its customers will go above and beyond to guarantee the clients the tailor-made services that they require. Let your client choose the personality and caregiving style of the caregiver so that they are most satisfied with your services.
Home Care Technology
The most important determinant when choosing a home-care agency is the quality of care provided. A vigorous home-care system who is dedicated to deliver unparalleled services may rely heavily on home care software that can provide substantial proof to your clients regarding their credibility. Displaying to your clients what your home care system is capable of offering will entice them into signing up for your services and will help you better manage and deliver as per the expectations of the client. The other agencies which are deprived of proper software will obviously come out as less organized and hence people will prefer you over them.
Align your day to day operations and activities at work with simple software and home-care technology which can integrate various types of information regarding locations, environments and different customer preferences and requirements. Knowing your patients personally and keeping their medical history in mind will prevent any mistakes on your part.
Giving Back to the Community
Associating your home care agency with a social cause can bring your business into limelight. Nothing surpasses the joy of serving your community selflessly. You are already doing the elder generation a great favor by providing them with the best of what you can. Sponsor concerts, or football or baseball matches for fund-raising to support a health care cause. Not only will you be portrayed as a proactive agency but your care and concern for the community will also shine through.
---
If you're looking for other ways to differentiate, you may want to download our white paper, Why Care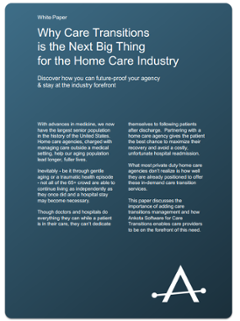 Transitions Is The Next Big Thing for the Home Care Industry If you're interested in learning more, just click the link to download.
Ankota provides software to improve the delivery of care outside the hospital, focusing on efficiency and care coordination. Ankota's primary focus is on Care Transitions for Readmission avoidance and on management of Private Duty non-medical home care. To learn more, please visit www.ankota.com or contact us.