We ran across a fascinating article by Tammy Worth recently, called "Home Health On Road to Reducing Readmissions". In her article, Tammy makes a compelling case that even before impending readmission penalties are imposed on home health providers, the industry has already begun to put in place practices that focus on reducing readmissions.
At Ankota, we see multiple examples of how our home health customers are leveraging this growing trend on a daily basis. So the question really is...how can home health care providers really profit from this industry focus on readmission penalties?

According to home care experts, home care companies have a tremendous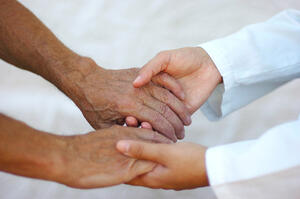 opportunity to expand their businesses and help shape coordinated care efforts by offering services to hospitals already seeking to avoid patient readmissions and the related penalties. Remember, the Affordable Care Act imposes penalties on 30-day readmissions for certain conditions. (See our blog on this topic here.). Penalties can indeed be stiff – the maximum penalty is up to 3% of a hospital's regular Medicare payments.
Hospital case managers and rehabilitation units are looking for well-established, well-disciplined and efficient agencies that will provide good care to their discharging patients so they can make safe referrals.
With that in mind, here are three easy actions you can take to help your agency stay strong:

1. Identify and build relationships with the key referring agencies in your area – the hospitals, emergency departments, accountable care organizations (ACO's) – so that the role your home health care organization can provide is factored into patient discharge and treatment plans from the very beginning.

2. Take an in-depth look the performance of your home health care team and fill any gaps. Share your performance data with the hospitals and other referring agencies you are working with to build credibility and trust.

3. Work hard to understand what your hospitals need. Offer solid strategies to help meet their needs, and look for opportunities to develop new programs and offer training to make sure you can deliver the services and care sought by your referring hospitals.
In that same vein, H. Carol Saul, a partner in the healthcare and life science practice at Atlanta law firm Arnall Golden Gregory, offers some great insight on the topic...

"Hospitals are major referral sources to home health organizations and they want agencies that can show that they have low levels of hospital readmissions...More savvy home health organizations have already been using low readmission rates as a marketing tool", Saul noted. She has seen some with specialty programs focusing on clinical conditions tied to readmission penalties – heart failure, pneumonia and heart attacks.

"There is already a lot of innovation going on around this and it is one example of how the Affordable Care Act is standing some old things on their head," Saul said. We at Ankota could not agree more.
If you're interested in learning more about the oportunities in care transitions, click the link below to receive a free White Paper on the subject.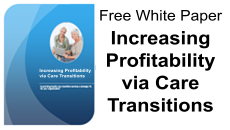 Ankota provides software to improve the delivery of care outside the hospital, focusing on efficiency and care coordination. Ankota's primary focus is on Care Transitions for Reeadmisison avoidance and on management of Private Duty non-medical home care. To learn more, please visit www.ankota.com or contact Ankota.