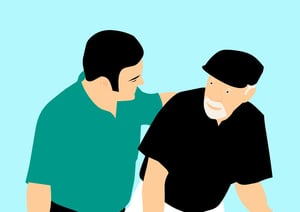 At the end of last year, the Ankota team decided to make 2020 a year for us about building community throughout the various segments of the home care industry.
for folks in home care to share Best Practices, learn about industry events, and to access useful informational resources.
The overarching message of all of the articles is that community building endeavors are both intrinsically valuable and helpful to business.
But really, what I tried to get across is that when we can all learn, teach, grow, and feel connected---when we strengthen our community(s), then we all win.---And for me personally, that dynamic is my ultimate goal with most things.
We shared a press release about it. Here's an excerpt from it, explaining a bit more about the site:
Ankota, a leading provider of software for managing home care agencies, has launched a separate website,

www.AHomeCareCommunity.com

to facilitate the spirit of community in the home care industry.

The site provides resources and communication forums where members of the home care community can collaborate and help each other. The site is open to all home care agencies regardless of whether they are a customer of Ankota's products or not.

"This is a big year for the home care industry. All home care agencies need to comply with the mandate for Electronic Visit Verification (EVV) in the 21st Century Cures Act and deal with COVID-19 at the same time." shared Ankota COO Sara Moore. "Having a community site where agency managers can share best practices and compare notes helps everyone."

Based on the conversations, Ankota sponsors events that address the topics of most interest to the community. So far, the key presenters have been Ankota personnel, but community sharing is the key and the company plans to have guest speakers from the agencies themselves as well as from state Medicaid programs, Managed Care Organizations, Clearing Houses and other important supporters of the community.
If you have suggestions for topics or areas of interest to cover in future blog posts, please feel free to reach out. If there are ways that the Ankota team can bring value to your business, or help build the home care community, let us know!
Ankota provides software to improve the delivery of care outside the hospital, focusing on efficiency and care coordination. Ankota's primary focus is on Care Transitions for Readmission avoidance and on management of Private Duty non-medical home care. To learn more, please visit www.ankota.com or contact us.