Constance Brinkley-Badgett is an editor and writer at Credit.com. Prior to joining us, she worked as an editor for MSN.com, senior digital producer for CNBC, and digital producer for NBC Nightly News. She also is a graduate of the International Culinary Center in New York, has worked for chefs such as April Bloomfield and Jean Georges Vongerichten, and is the founder of Crave Personal Chef Services in Austin, Texas.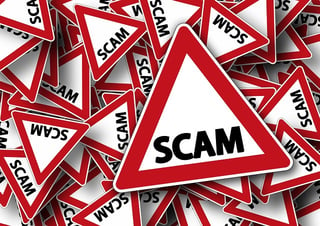 As the American population grows older and more of its wealth becomes controlled by senior citizens, home care agencies must be able to help their clients both recognize and avoid instances of financial fraud.
Unfortunately, financial scams targeting older adults remain one of the most common forms of fraudulent criminal activity. Elderly individuals are frequent targets, due to the effects of age on memory, cognition and social participation. And while that situation can be exacerbated by a revolving door of strangers entering an elderly person's home, it's also an opportunity for care agencies to provide safety measures to ensure clients aren't taken advantage of.
"As it is with any employed position, caregivers will come and go," said Joy Loverde, author of The Complete Eldercare Planner and the upcoming Who Will Take Care Of Me When I'm Old? "Caregiver burnout is a significant industry problem with high rates of annual staff turnover — between 40 and 60% in home care agencies, according to research conducted by the Paraprofessional Healthcare Institute."
The only steady relationship most clients have with the home care agency is with the owner of the agency and the designated care manager assigned to the case.
That's why an extra layer of "scam security" is needed to ensure both your staff and clients are safeguarded.
Loverde suggested the following best practices for home care agencies to help their clients avoid financial scams against the elderly like those noted by the Federal Bureau of Investigation:
Safeguard Finances, Correspondence & Valuables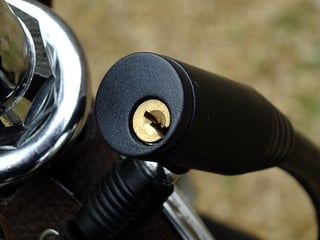 During the initial home visit, ask clients specific questions about their financial-management and mail-management systems.
"Ask clients: Who manages your finances and your incoming mail? Who is directly responsible for paying your bills? Importantly, the goal is to find out if clients have an existing system in place for averting financial abuse," Loverde said.
Ascertaining such details as who is responsible for paying credit cards and other bills or who balances the checkbook can help determine not only if the client has already been a victim of fraud (like debt collection scams) and if they are still at risk.
"Experts say most people don't realize they've been scammed right away. It's only later they feel something 'wasn't right.' Intelligent, well-read and accomplished people have succumbed to slick sales pitches, fearing exposure of the incident might bring their competence into question," Loverde said. "Some victims choose to forget about the loss and keep it a secret."
Also during the initial home visit, "put the topic of valuables on the table," Loverde said. "It is not uncommon for home care workers to be unjustly accused of stealing. Discuss with clients and family members the importance of putting away private papers, cash, and valuables in a safe place."
Provide Documentation of Caregiver Vetting Process
"Among other questions, clients deserve to know: Why are you recommending this particular person for this job?" Loverde said. "What kind of background check did you conduct on this person?"
You can obtain forms online that will help you identify and organize the documents providing proof of a potential caregiver's skill set. A personal care agreement, or contract between the individual who agrees to provide caregiver services and the person receiving care, can serve to protect your loved one should they need a legal advocate.
Provide Training for Designated Managers and Caregivers
Loverde suggests providing certain staff members with sensitivity training around financial scams and providing clients with written documentation of this training.
"Care managers and caregivers should be aware of how the client manages their incoming mail, unexpected visitors who pose as healthcare or home repair representatives, use of internet, and incoming telemarketing phone calls, among other scam tactics," she said.
Determining if elder clients have already been victimized can be difficult, but Loverde recommends observing their behavior when the subject is brought up. Do they clam up? Become standoffish? She suggests watching for other clues such as:
Overdue bill notices and bounced checks

Unusual activity in bank accounts and cash withdrawal machines

Withdrawals of large amounts of cash

Unrecognizable signatures on financial documents

Conflicting accounts of incidents

Forgetfulness regarding the whereabouts of checkbooks, bank and credit card statements

Frequent trips to gambling casinos

Recent changes in wills or the creation of a new will

Increased frequency of incoming telephone calls

Large volume of mail that promotes prizes or free trips

Valuables such as artwork, silverware, and jewelry going missing
By putting these measures in place, you can help ensure that clients, family members, staff and your agency are all scam-aware and, hopefully, scam-free.
If you're looking for additional ways to expand your knowledge-base or business, consider downloading our free white paper, Why Care Transitions Is The Next Big Thing for the Home Care Industry. Just click the link to download.
If you're interested in learning more about our home care management software solutions, or about our Care Transitions component as a way to increase revenue, just click the button below: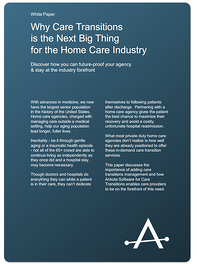 Ankota provides software to improve the delivery of care outside the hospital, focusing on efficiency and care coordination. Ankota's primary focus is on Care Transitions for Readmission avoidance and on management of Private Duty non-medical home care. To learn more, please visit www.ankota.com or contact us.