Today's title is not a typo but rather a play on words. Nanotechnology is used to manipulate atoms and molecules in the 1 to 100 nanometer scale. While this and other leading edge technology is amazing, we in the home care world need to deal with technologies that our average 83 year old client can handle. Today's post was written by Audrey Kinsella and originally appeared in Tim Rowan's Home Care Technology Report on 11/30/2016. I have known and admired Tim Rowan for many years and highly recommend that you subscribe to his Home Care Technology Report newsletter. I met Audrey in Boston and the same conference that inspired her article. Audrey is great and I look forward to reading more of her works in the future.
I remember it as though it were yesterday.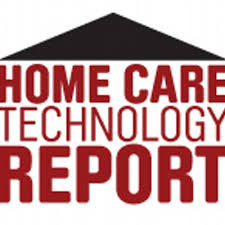 It was the great Gene Tischer, former Executive Director of the Home Care Association of Florida, who taught me a memorable lesson years ago, as he did many audiences large and small over the years. An audience member had asked him, "Gene, what's the best option for eldercare now? Nursing Homes? Assisted Living Facilities? Home care?" He said, "Have adult daughters." I walked away shaking my head. I have one son.
I was reminded of Gene's advice last month as one of the exhibits at the Partners Health annual "Connected Health" symposium caught my eye. MedSentry™ bills itself as "The Prescription for Medication Adherence." The Westborough, Massachusetts company offers a modular medication management system designed for patients with a high number of prescriptions. Booth personnel explained to me that the system features custom medication packaging, cloud-based pharmacist management, imaging technology, and compartments that can manage a dozen medications or more.
When I asked whether the dispenser was mobile, they told me the story of one devoted daughter who prepared he elderly mother's dispensary every month with 12 different prescriptions drugs that had to be taken at varying times of the day. Once filled, the mother was able to self-manage when she was at home and when she visited other family members, often for days or weeks at a time.
After telling me that story, they quoted a clinical validation study that had been conducted by Partners' Center for Connected Health and Massachusetts General Hospital. It found a 9% hospitalization rate among MedSentry™ users and a 50% rate for all-cause hospitalizations in the control group and a 36% rate of hospitalizations for heart failure.
Is Homebound a Healthy Goal?
I concluded, after my time in Boston, that seniors who live at home, get out more often, and remain active, are becoming more common. Connected technologies are making passive seniors obsolete, regardless of their chronic conditions. Robust new wearables help them share health data with their doctors and nurses. They are able to be more engaged with their care, even while away from home.
At all times, keynote speakers and product vendors returned to the theme that the technology must be usable to be worthwhile. Ease-of-use features were constantly cited as the key to new tools helping patients educate themselves and chart their own progress as they age. As mobile health tools evolve, they move in the direction of being easily used by people of all ages. That does not mean the adult daughter is not still critical. She may be able to use the tools more confidently.
Help May Be Near at Hand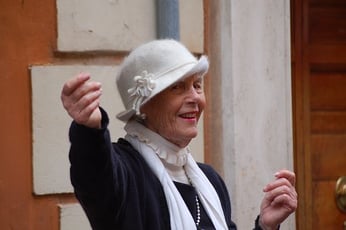 The old joke comes full circle. When mobile computers were new and CMS first began requiring electronic forms and claims submission, Healthcare at Home agency staff often balked. "I will never be able to learn how to use this gadget," they often said. The helpful manager would often reply, "Don't you have an 11 year-old at home? She can teach you."
Fast-forward to 2016 and that built-in 1980's computer instructor may now very well be the person filling the retired home health worker's MedSentry™ dispenser.
Enable the 24/7 Caregivers
Coaching elders in technology use and engaging them in their own care are key to teaching self-management routines and keeping them at home, where they prefer to live. Ease-of-use features benefit these adult daughters as much as they do their elderly parents with multiple chronic conditions. Consequently, keeping seniors engaged in self-management may begin with coaching adult daughters, who, as Gene Tischer taught us years ago, are becoming essential to both their elderly parents and their parents' care team.
As presenter Lauren Costantini, PhD, CEO of Prime-Temp, Inc., indicated in his keynote address, "Wearable Sensors Expand Human Potential," "We should not look at today's monitoring devices as "technologies in search of a problem." Rather, we must embrace them as "technologies as a service for life." This is the new and different patient we as an industry are soon to meet. Not the dependent, homebound person but the active, independent senior, living well at home -- and everywhere else -- thanks to tools that enable self-management of chronic conditions.
Audrey Kinsella, MA, MS, is HCTR's telemedicine reporter. She has written on home telehealthcare and new technologies for home care service delivery for 20 years, in 6 books, multiple web sites, and more than 150 published articles. Audrey can be reached at audreyk3@charter.net or 828-348-5308.
Simplifying Telehealth Technology for Elder Care
Another technology that is not as advanced as nanotechnology but still difficult for elderly patients is teleheath. This technology, generally focused on collecting vital signs, is often hard to connect to the Internet and difficult for elderly people to use. One of Ankota's innovations is called Foresight Care.
This solution check's in with elderly people that have health and social risks simply by calling them on the phone and having them respond by pushing buttons on their touch-tone keypad. The questions are simple and the calls are designed to take around a minute. Health systems are looking for affordable ways to reduce emergency room visits for the elderly patients who you care for. If you'd like to learn more about how Foresight Care can help your agency prevent avoidable hospitalizations at low cost, please let us know.
Ankota provides software to improve the delivery of care outside the hospital, focusing on efficiency and care coordination. Ankota's primary focus is on Care Transitions for Readmission avoidance and on management of Private Duty non-medical home care. To learn more, please visit www.ankota.com or contact us.