I've recently read a number of articles about compassion fatigue.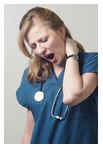 In short, people who focus their lives on caring for others are succeptible to become tired and less compassionate. Compassion fatigue is also called secondary traumatic stress disorder. It's a real problem that affects home care workers and other medical professionals including doctors. There's a lot to learn about compassion fatigue and many sources of information and help. Click here to google it.
Among the resources available to help, one of the most comprehensive and focused is the Compassion Fatigue Awareness Project has a site here.

In reviewing a number of articles with recommendations for overcoming compassion fatigue, here are a few top recommendations:
We hope that these suggestions will help you and your caregivers to stay healthy and avoid this debilitating affliction.
Ankota provides software to improve the delivery of care outside the hospital. Today Ankota services home health, private duty care, DME Delivery, RT, Physical Therapy and Home Infusion organizations, and is interested in helping to efficiently manage other forms of care. To learn more, please visit www.ankota.com or contact Ankota