Only 5 percent of Americans accounted for roughly half of all U.S. health care spending in 2009, according to a report from the National Institute for Health Care Management Foundation. Conversely, the 50 percent of Americans with the lowest health care costs accounted for just 3 percent of the total cost of health care in 2009.
What does this mean for the world of home health?
More and more evidence (both anecdotal and clinical) is proving that managing care for the sickest and/or costliest patients results in less hospitalizations and other complications for them and reduces their health care costs significantly. There's a great (althrough somewhat long) article in the New Yorker on this topic by Atul Gawande who authored Ankota's 2010 Book of the Year, the Checklist Manifesto. Click the article below.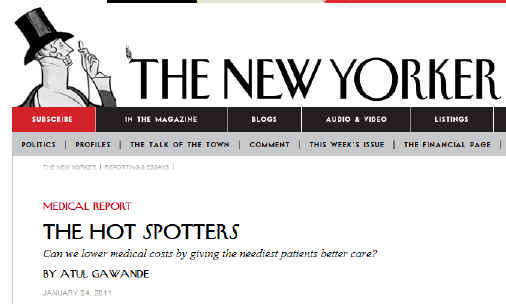 Home health and private care companies can play a key role in the ongoing care of these individuals, monitoring their health and making sure that they're capable or have the necessary assistance with their activities of daily living (ADLs). This can improve outcomes, lower overall care costs and be reimbursed under the Accountable Care Organization (ACO) model.
Other Findings:
The report also found:
U.S. health care spending reached $8,100 per person in 2009. Approximately $2,500 went to hospital services and $1,600 went to physicians and laboratories. The balance of the spending went to a variety of other sources, including retail prescription drugs, home health and HME
A total of 15.6 percent of the U.S. population recorded no health care spending at all
People with chronic conditions (one or more) were two to four times more likely to end up in the top 5 percent of health care spending.
Total 2009 U.S. health care spending reached nearly $2.5 trillion, accounting for 17.6 percent of total GDP.
Ankota provides software to improve the delivery of care outside the hospital. Today Ankota services home health, private duty care, DME Delivery, RT, Physical Therapy and Home Infusion organizations, and is interested in helping to efficiently manage other forms of care. To learn more, please visit www.ankota.com or contact Ankota