Everyone has heard about how Obamacare is driving a change in healthcare reimbursement from a pay per service model (where each service is reimbursed against a price sheet) to a pay per outcome model, and ultimately to an accountable care model (where health systems that combine payer and provider will receive a fixed amount per patient and will need to manage the health of that population).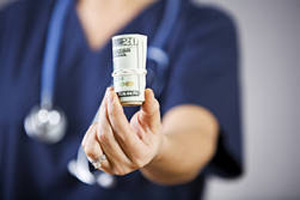 One of the ways that the Centers for Medicare and Medicaid Services (CMS) will implement the "pay per outcome" model is called bundled payments. CMS explains the model here, as follows:
Traditionally, Medicare makes separate payments to providers for each of the individual services they furnish to beneficiaries for a single illness or course of treatment. This approach can result in fragmented care with minimal coordination across providers and health care settings. Payment rewards the quantity of services offered by providers rather than the quality of care furnished. Research has shown that bundled payments can align incentives for providers – hospitals, post-acute care providers, physicians, and other practitioners – allowing them to work closely together across all specialties and settings.
How Do Bundles Work?
There are various flavors of the bundled payment programs, but essentially the idea as described above is that there will be a fixed price payment made to the hospital to cover the procedure and its post-acute care. The subtleties between the various "flavors" relate to the time period covered by the bundle and whether the reimbursement is via fee-for-service and then "reconciled" or whether a single payment is made (and the providers submit "no cost" claims"). Again, more details is provided by CMS at this site.
What is the Impact on Home Health?
It is possible that home health will be profoundly impacted by bundles in the following ways:
You'll need to negotiate and be paid by hospitals for the bundles

You'll need a different way of thinking. Today your perfect world is to get a high agreed reimbursement and do enough visits to avoid a LUPA. With bundles, you will be competing with other agencies who are able to provide the best outcome at the lowest cost.

With bundles, the hospital won't be reimbursed extra for readmissions, so part of your competitive strategy will need to be to prove that your agency avoids preventable readmissions
Where Do Bundles Stand Presently?
As of July 1, 2015, there were 101 home health agencies enrolled in the bundled payment model. There's a strong feeling among some home health experts that the successful bundle participants will be the agencies who thrive in the future and that others are in danger of extinction. This was a major theme at Tim Rowan's Healthcare in Transition conference. If this posting makes you nervous, perhaps you should book yourself at Tim's next conference.
What About Non-Medical Home Care?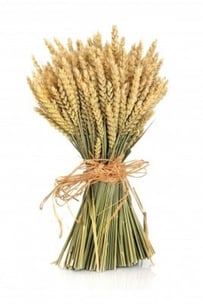 The editorial position of this blog is that non-medical home care agencies can play a key role not only in helping their clients stay out of assisted living and nursing homes, but also in avoiding hospitalizations. When individuals are discharged who don't have the physical, cognitive, or mental capacity to engage in their care, they will be at higher risk of non-reimbursed readmissions than others. Further, non-medical home care can likely fill that void to help them avoid the readmission at an affordable cost (and will likely transition these referrals to long-term clients). Home care agencies who will benefit from this will be the ones who do the following: 1) partner with home health agencies for referrals, 2) provide care transition services in addition to standard care, and 3) will start to build practices that help their clients with ongoing chronic and recurring health conditions to avoid hospitalizations. If you aren't doing items 2 or 3, Ankota can help.
Ankota's latest whitepaper offering, entitled "How Homecare Can Win Under the New Care Model" is now available. Please download by clicking the link or the picture below. If you're interested in scheduling an online demo of our home care or care transitions software solutions, just click this button: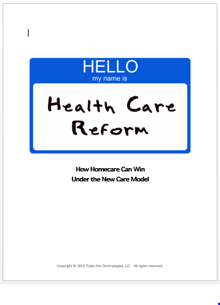 Ankota provides software to improve the delivery of care outside the hospital, focusing on efficiency and care coordination. Ankota's primary focus is on Care Transitions for Readmission avoidance and on management of Private Duty non-medical home care. To learn more, please visit www.ankota.com or contact us.