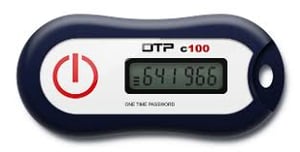 Part of a good Electronic Visit Verification (
EVV
) system is its ability to alert your office when the visit details collected during an
EVV
clock-in and clock-out don't match your screening criteria. This gives you a chance to catch errors in real-time so that you can get the correct information from the client and/or caregiver and "fix" the visit before submitting it for payment or payroll.
There will be exceptions to review and approve every day, but once your organization is trained and your caregivers are up to speed, it should drop to 10% or less of the visits that need approval. As a side note, many of our customers send
a
one-day time sheet
to customers to sign off when there's an
EVV
error. Here's what a visit approval dashboard looks like in the Ankota system (names are blocked out):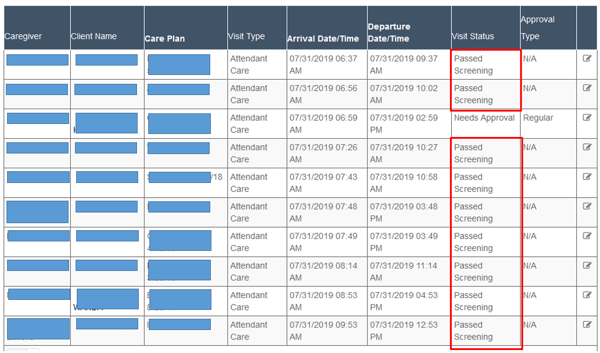 As you see above, 9 out of the 10 visits "passed screening" which is what you should expect. Unfortunately, not all home care agencies achieve the 90% mark. This can be addressed with today's best practice...
Every time a visit needs approval you should ask how to make it pass screening in the future
Most organizations have either a scheduler or a billing team member who reviews the visits that need approval and gets them approved, however, we've observed that sometimes these approvers are making the same mistakes day after day and not doing anything to fix them. The key to turning this around is that every time a visit needs approval you should ask how to make it pass screening in the future. Here are examples of issues that should be fixed systematically when they're observed in the
EVV
system:
Client phone number is wrong: With telephony, the system compares the phone number that the caregiver calls in from to the client's home phone number. If that phone number is keyed incorrectly then the same error will occur every day.
The caregiver did not authorize the mobile app to know their location:

T

he first time that a mobile app wants to know your location, it asks your permission. Doing

EVV

with GPS requires that the caregiver authorize your home care software to know their location. Ideally this is covered in the

EVV

training for caregivers and they turn it on right away. But in a typical agency there will be a few caregivers who missed the training and then when the mobile app asks for their location, they say no. Again, some of the people who are reviewing visits day after day just keep approving. They'll say "Oh, I never get the GPS from Suzie." and they don't instead call Suzie and get the issue fixed.
Client location is in the wrong place: As we all know from our experience with Google maps, not all addresses take you to the correct location. This happens especially with long country roads and long driveways. To correct this, your system should allow you to "move the pin" to the right location. What you'll want to do, however, is to document the evidence that the original GPS location was wrong.
Whatever the reason is for a visit not to pass screening, you should train your reviewer to address the root cause and try to make that issue go away permanently.
Ankota provides software to improve the delivery of care outside the hospital, focusing on efficiency and care coordination. Ankota's primary focus is on Care Transitions for Readmission avoidance and on management of Private Duty non-medical home care. To learn more, please visit www.ankota.com or contact us.