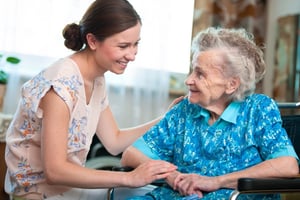 Home care is a broad industry encompassing nursing care, non-medical care that enables individuals to stay in their own homes, therapies like PT, OT and Speech Therapy, Meals on Wheels, Home Medical Equipment (HME) and more.
Almost every home care organization that we talk to has a notion of a care plan (or "plan of care"), but it generally means something different to each discipline of care, and often even means something different to agencies practicing the same form of home care. If you read no further, my advice is that when someone brings up the term "care plan" or "plan of care," you should explain that this means different things to different agencies and ask them to describe what it means to them.
Hare are the most common definitions of "care plan" that we've come across:
The list of tasks to be performed by non-medical caregivers when at the home: In practice, this would be that Mrs. Johnson's care plan includes dressing, grooming, meal preparation, med reminders, light housekeeping and trash removal.
The frequency of visits required for someone's care: Some agencies will say: Mr. Smith's care plan is a "2w4, 1w2" meaning "we see them twice a week for 4 weeks and then once a week for two more weeks"
Goal driven Care Plans: Oftentimes medical care in the home starts with an assessment and setting of goals. For example, a person recovering from knee surgery will have goals like 90 degree flexion, the ability to walk up to 20 steps independently, and competence with sit-to-stand movements.
Assessment Driven Care Plans: Many agencies start with an assessment of medical and non-medical status and needs and refer to this as the care plan.
Clinical Pathways: This is a medical term that essentially follows the form of "If the person has "Condition 1" the steps to recovery are A, B and C.
Combination of the Above: For example, in the Missouri Medicaid home care program, agencies receive a "Cyberaccess Care Plan" that includes the authorized units and tasks to be performed.
So, what does "Care Plan" mean? The bottom-line is that it depends who you ask…
What Does Care Plan Mean to You?
When you're evaluating software for your home care agency and the vendor says that they handle care plans, be careful to make sure and find out what care plan means to them. If they say care plan, but they're not describing it in a way that sounds like what you need, chances are that they're not the right software for you. If you're interested in learning more, please feel free to reach out, by clicking the button below:
Ankota provides software to improve the delivery of care outside the hospital, focusing on efficiency and care coordination. Ankota's primary focus is on Care Transitions for Readmission avoidance and on management of Private Duty non-medical home care. To learn more, please visit www.ankota.com or contact us.