One of the industry experts I learn from every time we speak is Ginny Kenyon, principal at Kenyon Home Care Consulting. Ginny helps open home care agencies and has given Ankota great inputs on our software. We at Ankota strongly believe that keeping elderly people healthy and comfortable in their homes (and out of the hospital) is an important step in the evolution of healthcare. Ginny is one of the pioneers driving moves in home health delivery. Enjoy her post (below).
Creating resources, including employee handbooks and policy and procedure manuals is no simple task and keeping them up-to-date can be quite daunting. Many organizations believe creating their own manuals from scratch, rather than letting professionals do it – will save their agency money. But that assumption couldn't be farther from the truth. In actuality, creating your own homecare manual, wastes valuable time and staff resources that could be spent improving client care. So instead of going it alone, consider purchasing a customized homecare manual.
What is a Customized Homecare Manual?
With a customized manual – an employee handbook or a policy and procedure manual – you get a complete document that includes Medicare requirements and can be adapted to your specific organization, state, and accreditation details. The homecare industry is not a one-size-fits-all world. Legal, accreditation and state regulations vary depending on the type of organization you manage.
Benefits of a Customized Homecare Manual
Customized manuals are written and updated by professionals with many years of homecare industry experience. These professionals are familiar with government regulations and know what works for other successful homecare organizations across the country. Take a look at ten ways a customized homecare manual saves your organization money.
Saves staff creation time – Writing a manual requires staff to be pulled away from their regular responsibilities. This means that either your client care suffers, or you spend money hiring caregivers to fill in. In the world of homecare, time is money.

Saves time required for updating – With homecare manuals, you can't just "write it and forget it." Government regulations are constantly changing; paying someone to stay on top of these changes and keep your manuals up-to-date will be costly.

Protects productivity – Productivity will plummet for your team required to write, update, edit and stay abreast of constant changes when you attempt to manage homecare manuals in-house.

Prevents errors – Let's face it. It's easy to make mistakes or leave out important information when those producing are inexperienced with the task. If homecare manual errors are made, you will spend time correcting them after an unfortunate survey.

Ensures policy accuracy – It's difficult to stay on top of ever-changing regulations while ensuring excellent client care. Failing to adhere to regulations will cost your agency money in repercussions, so it's crucial to get your manuals right – and keep them accurate.

Prevents lawsuits – Does your employee handbook contain enough information to prevent lawsuits resulting from employee issues? or termination? Using a professionally written employee handbook saves you from costly legal consequences.

Improves client care – Ensuring your staff has adequate client care policies and procedures available is crucial for your success. If these are incomplete, outdated or misinterpreted, the cost will be lost clients and referrals.

Ensures all are on the same page – Are your homecare manuals electronic and accessible online? With printed manuals, whenever updates are made, all copies must be reprinted. Most customized homecare manuals are produced and updated electronically reducing your costs significantly. ?

Saves leadership time – Saving staff time was mentioned but what about management time? With a customized resource, instead of reviewing and editing – your time can be spending on agency growth and improvements, networking with referral sources, or building your brand.

Gives you peace of mind – While peace of mind doesn't cost anything, worry does. Worry causes you to become distracted, takes away your ability to think clearly and get things done in an efficient manner. Purchasing customized homecare manuals takes away some of that worry.
At Kenyon HomeCare Consulting, we offer several different types of customized manuals including employee handbooks, policies and procedure manuals for non-skilled, licensed, and Medicare homecare and hospice to meet the specific needs of your organization. With many years of manual writing experience, we provide a customized manual you can depend on. To learn more, give us a call today.
CHRONIC DISEASE EDUCATION MAKES AIDES BETTER CAREGIVERS first appeared in Kenyon HomeCare Consulting blog.
Ginny Kenyon is the founder and CEO of Kenyon HomeCare Consulting, a home health consulting firm that gives agencies a market advantage, promotes creative product development, and offers viable ways to achieve and sustain organizational and fiscal success.
------
Ankota's 3rd care transitions whitepaper, entitled "Selling Care Transition Services to Hospitals" is now available. Please download click the link or the picture blow for tips on how to construct optimal care transitions offerings and sell them to hospital partners in your geographies. If you're interested in scheduling an online demo of our home care or care transitions software solutions, just click this button: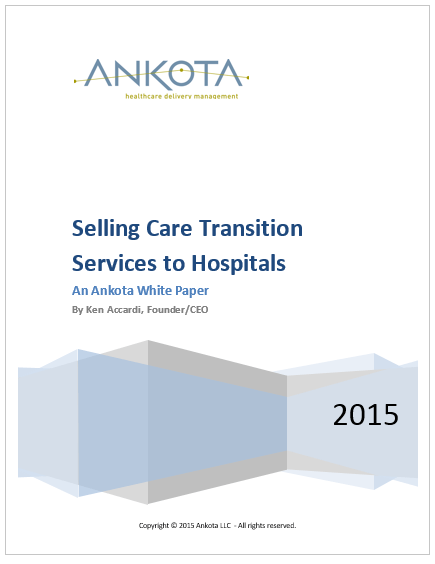 Ankota provides software to improve the delivery of care outside the hospital, focusing on efficiency and care coordination. Ankota's primary focus is on Care Transitions for Readmission avoidance and on management of Private Duty non-medical home care. To learn more, please visit www.ankota.com or contact us.