Last month I attended a conference called "Healthcare in Transition" that was led by the editor of Home Care Technology Report (subscribe for free here). The conference focused on the future of the US healthcare system and the critical role that home health and home care will be able to play. I usually write about home care because this is the market that Ankota serves. More specifically, I usually write about the opportunity to add care transitions management as a service offered by your home care agency, but today I'm focusing on home health, to show what it takes to win.

What Does Transformation Mean in Home Health?
Phoenix Home Care (a home health agency in Chicago), led by Pete Miska, has been working for several years to change the focus on his organization from a focus on census to a focus on outcomes. His mantra is "this is a low-cost patient-centered practice." This strategy sounds counter-intuitive for a player in an industry that gets more reimbursement the longer they hold onto their patients, but he knew it was the right thing to do and he did it. Note that I met Pete personally but a lot of the content for this blog post came from the great coverage in Home Care Technology Report.
5 Hard Lessons in Transformation
Implementing this change has been hard for Pete and his organization, and he suffered some consequences along the way, including the following:
Changing to a model with fewer visits lowered his reimbursement and profits in the short term

Some of his nurses liked it the old way and he lost a significant portion of his clinical staff

Eventually, his nurses began to see the results of better outcomes and took pride in using their skills at a higher level

Now his agency is crushing the competition in his area and getting more referrals, plus

His organization has been chosen as a model three bundled payment partner for hip and knee replacements in Chicago
As you can see, the change was not easy for Pete and his organization, but in the end it paid off and he is winning. I know that if I needed home health in Chicago, I'd choose Pete's agency.
Shifting back to Home Care, I strongly feel that home care is better positioned for success in the future that home health because of the growing population and shrinking pool of family caregivers. But change is coming here as well and the agencies that will win are those who can collaborate with the hospital systems and help their clients avoid hospitalizations. To make a step in the right direction, please download our free whitepaper Why Care Transitions Is The Next Big Thing for the Home Care Industry
If you're interested in learning more about software solutions for home care or for care transitions, we'd love to help! To schedule an online demo of our home care or care transitions software solutions, just click this button: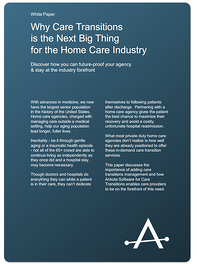 Ankota provides software to improve the delivery of care outside the hospital, focusing on efficiency and care coordination. Ankota's primary focus is on Care Transitions for Readmission avoidance and on management of Private Duty non-medical home care. To learn more, please visit www.ankota.com or contact us.