One of the industry experts I learn from every time we speak is Ginny Kenyon, principal at Kenyon Home Care Consulting. Ginny helps open home care agencies and has given Ankota great inputs on our software. We at Ankota strongly believe that keeping elderly people healthy and comfortable in their homes (and out of the hospital) is an important step in the evolution of healthcare. Ginny is one of the pioneers driving moves in home health delivery. Enjoy her post (below).
Resources are the foundation of any homecare organization. Whether it's a policy and procedure manual, an employee handbook or a competency test for aides, the tools you use in your agency are crucial to running a smooth operation. These "must haves" ease the stress of day to day activities, provide reference points for any crises and make succeeding in the homecare industry possible.
Homecare Industry Tools for Success
Every industry needs specific tools to get the job done. Doctors require stethoscopes, mechanics need wrenches, and accountants need calculators. Without these instruments, work would be much less effective and take significantly longer. This is also true of the homecare industry.
While devices needed for homecare include physical apparatuses, they also include intellectual means. Here are five must-have tools for every organization in the homecare industry.
1. General Policy and Procedure Manuals
A policy and procedure manual is essential for any homecare organization. The items required for a compliant manual depend largely on what type of agency you run. For example, non-skilled agencies have different regulations and follow different requirements than does hospice or Medicare home health.
The four major categories of homecare industry policy and procedure manuals are: non-skilled homecare,licensed home health, Medicare home health, and hospice. The good news is that there are numerous pre-written, electronic, customizable manuals on the market. They meet government requirements, help you remain compliance, and save time and money when compared with writing policy and procedure manuals from scratch.
2. Specialized Policy and Procedure Manuals
Similar to the general policy and procedure manual, a specialized manual incorporates accreditation standards and state requirements, making passing surveys simpler. An additional benefit of purchasing this manual is the assistance you can receive from an expert consultant who helps you prepare for accreditation survey. This is accomplished through a mock survey and staff education prior to the actual survey.
Additionally, the purchase of a specialized manual allows consultants or your staff to incorporate state standards and customize the manual to fit your existing internal processes. If your processes aren't where they need to be to meet accreditation or state requirements, a knowledgeable consultant will work with you to improve your systems in preparation for survey.
3. Aide Competency Testing Kit
Hiring employees who aren't truly qualified for their positions is a bitter disappointment and a waste of valuable time. When the work you do involves clients' health, it's vital that the aides you employ are the best possible. For that reason, with the aide competency testing kit, find out before you hire if the employee is competent to provide the care you expect.
Once you've taken full advantage of this kit, be sure to continue creating an elite staff by providing advanced education. Chronic disease education for aides is a simple and effective way to improve client care and increase employee retention. With the ever increasing rise of chronic disease in the U.S., this training is essential for your organization's growth.
4. Employee Handbook
This customizable resource includes everything you need to efficiently manage your team. Important HR considerations incorporated in complete employee handbooks include:
Equal employment opportunity

Employment policies

Timekeeping and payroll

Job specific matters

Employee health and safety

Client care policies
Using a customizable employee handbook has several benefits, including more efficient training, better HR compliance, improved client satisfaction, and increased employee retention.
5. Non-Skilled/Skilled Home Care Forms
This category is comprised of a comprehensive set of personnel, client, and miscellaneous forms benefiting both new and existing agencies in the homecare industry. Here are just a few examples of the 49 documents included in the Kenyon forms package:
Application for employment

Disclosure statement

Employee complaint form

Employee warning notice

Sexual harassment policy

Case orientation log

Client bill of rights

Discharge information

Evacuation plan

Accident/incident report form

Infection control log

Marketing information sheets
Working with the Best in the Homecare Industry
At Kenyon HomeCare Consulting, the tools we provide are completely customizable and benefit all aspects of your organization. Purchasing resources from us allows you to ensure thoroughness and competency while saving your agency time and money. Reach out to an experienced consultant today to get started.
This article, 5 TOOLS EVERYONE IN THE HOMECARE INDUSTRY SHOULD BE USING first appeared in Kenyon HomeCare Consulting blog.
------
One of Ankota's recent whitepapers, entitled "Selling Care Transition Services to Hospitals" is available for download and we think you'll find it useful. Please click the link or the picture below to download. If you're interested in scheduling an online demo of our home care or care transitions software solutions, just click this button: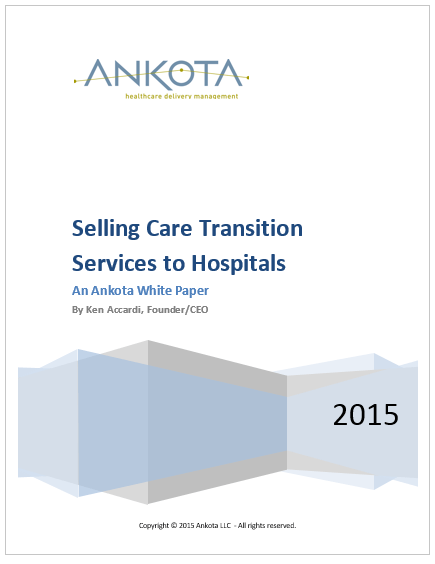 Ankota provides software to improve the delivery of care outside the hospital, focusing on efficiency and care coordination. Ankota's primary focus is on Care Transitions for Readmission avoidance and on management of Private Duty non-medical home care. To learn more, please visit www.ankota.com or contact us.