One of the industry experts I learn from every time we speak is Ginny Kenyon, principal at Kenyon Home Care Consulting. Ginny helps open home care agencies and has given Ankota great inputs on our software. We at Ankota strongly believe that keeping elderly people healthy and comfortable in their homes (and out of the hospital) is an important step in the evolution of healthcare. Ginny is one of the pioneers driving moves in home health delivery. Enjoy her post (below).
On October 31, the U.S. Senate Finance Committee's chronic care working group released a discussion draft for the Creating High-Quality Results and Outcomes Necessary to Improve Chronic (CHRONIC) Care Act of 2016, which is being introduced this month. The draft includes stakeholders' comments and feedback released in December 2015.
We've got the run-down on everything addressed in the chronic illness management draft and how it relates to home healthcare.
Proposed Legislation and Chronic Care
While the proposed legislation—which does NOT require Medicare Advantage Plans to provide hospice benefits—is complex and includes various providers of Medicare coverage, there are a few specific areas that may affect homecare organizations specifically. Here's what you need to know!
1. Extending and expanding the Independence at Home (IAH) Demonstration Project.
This demonstration was created to test payment incentives and service delivery models to improve health outcomes for Medicare recipients suffering from multiple chronic diseases. Under the IAH, qualifying providers are eligible for incentives when meeting performance standards.
Originally, the demonstration was scheduled to end on September 30, 2017. The CHRONIC Care Act proposes an extension of two years and an increase in the number of participating beneficiaries. It also gives providers three years to meet standard requirements rather than termination from the program after two years.
2. Medicare Advantage (MA) Plans will offer chronically ill members an increased amount of supplemental benefits.
Meaning, MA chronically ill recipients may be able to receive additional services improving their overall health outcomes. And resulting in little to no out-of-pocket cost to beneficiaries.
In addition, MA plan enrollees will have greater flexibility and more benefits for telehealth services. The draft expands home telehealth payments for MA accountable care organizations and for stroke consults.
3. Government Accountability Department will perform a study leading to development of a Medicare payment code for a one-time doctor visit to create a long-term chronic care plan.
This study is crucial for determining and eliminating barriers to skilled nursing facilities, home health agencies, and hospice programs for chronically ill patients. Having the ability to better facilitate longitudinal chronic care will promote health care organizations to work together for the good of chronically ill Medicare beneficiary. And in addition, meet the goal of decreasing healthcare costs.
4. Improvement for payment accuracy for those providing chronic care services.
A new payment model will take into account various factors affecting beneficiary's health, such as:
Total number of chronic diseases;

Impact of additional diagnosis codes reflecting mental health and substance abuse;

Diagnosis of chronic kidney disease;

And requires a minimum of two years of chronic diagnosis data.
5. Eliminate Barriers to Care Coordination under Accountable Care Organizations
Accountable Care Organizations (ACO) are collaborations that integrate varying groups of health care providers. ACOs were created with the goal of ensuring patients receive the right care, specifically chronic care, in the right settings to optimize their treatment outcomes.
This proposed new program will make access to ACOs more flexible for beneficiaries and health care agencies. Thus leading to better chronic care across the continuum, and better communication between providers.
Preparing Your Agency to Provide Chronic Care
Chronic diseases are at an all-time high. The creation and proposal of new legislation is occurring regularly to keep up with this health crisis. Therefore, it's more important than ever to equip your homecare staff to ensure they can properly handle these changes.
In order to take advantage of these proposed programs, such as the IAH demonstration and increased MA benefits, your team needs adequate chronic disease education and training. This allows you to provide top-notch care to clients suffering from one or more chronic illnesses. And also qualifies your agency to better participate in various government incentives.
Work with Kenyon HomeCare Consulting to Improve Chronic Care
At Kenyon HomeCare Consulting, we offer numerous methods for streamlining your organization and getting the most out of your processes. One effective way to prepare for chronic care legislative changes is to participate in Aide University.
With Aide University, caregivers learn the skills needed to provide clients with the best chronic care available. This knowledge creates an elite staff and ensures employee as well as client satisfaction.
We are here to help! So, reach out to us to start providing chronic care staff education today.
This article, originally titled, CHRONIC CARE DRAFT LEGISLATION AND NEED FOR ADVANCED EDUCATIONC first appeared in Kenyon HomeCare Consulting blog.
------
One of Ankota's recent whitepapers, entitled "Seven Habits of Highly Effective Private Duty Home Care Agencies" available for download and we think you'll find it useful. Please click the link or the picture below to download. If you're interested in scheduling an online demo of our home care or care transitions software solutions, just click this button: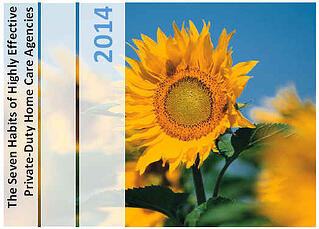 Ankota provides software to improve the delivery of care outside the hospital, focusing on efficiency and care coordination. Ankota's primary focus is on Care Transitions for Readmission avoidance and on management of Private Duty non-medical home care. To learn more, please visit www.ankota.com or contact us.