One of the industry experts I learn from every time we speak is Ginny Kenyon, principal at Kenyon Home Care Consulting. Ginny helps open home care agencies and has given Ankota great inputs on our software. We at Ankota strongly believe that keeping elderly people healthy and comfortable in their homes (and out of the hospital) is an important step in the evolution of healthcare. Ginny is one of the pioneers driving moves in home health delivery. Enjoy her post (below).
If you own or manage a homecare organization, you probably set goals for yourself and your agency on a regular basis. These goals change as your agency grows, but there are a few basic premises that hold true in each new objective you create. While the details of these objectives differ from year to year, the ideas behind them remain the same.
Goals Met with Homecare Customized Resources
Behind every goal you set for your agency is the desire for a happy, prosperous business. But meeting your goals year after year, month after month can be a challenge. Fortunately, this challenge becomes significantly easier with the use of
customized resources for homecare organizations.
With these resources at your fingertips, obtaining your goals is possible. Here are six goals that customized resources help you accomplish.
1. The Goal of More Free Time
Everyone wants more free time – time to spend with family and friends, doing the things you enjoy. But for an agency owner, just as with all entrepreneurs, that time is limited. Maybe you find yourself working long after other employees have gone home, you're on call 24/7, and you can't stop thinking about the organization even when you're not in the office.
Sound familiar? If so, then it may be time to consider investing in customized resources for your agency. These resources – whether employee handbooks, policy and procedure manuals, or others – keep you from wasting your valuable time reinventing the wheel.
2. The Goal of Better Organization
Who doesn't want to be more organized in his or her business? Paperwork quickly piles up if you're unorganized, leaving you constantly scrambling to find the things you need. Using electronic customized homecare resources allows you to take back your work space and conquer the clutter.
3. The Goal of Enhanced Client Care
With the right manuals in place, your staff is better equipped to provide exceptional care to clients. Through resources such as employee handbooks and policy and procedure manuals, staff have a place to go with questions and a reference point for the care they are expected to provide.
Good client care is essential to your agency's growth. By utilizing customized resources, you build a foundation for ongoing success through excellent client care.
4. The Goal of Continued Compliance
As a homecare agency owner or manager, you must be certain your organization is meeting CMS requirements and accreditation standards. These legalities change frequently, and an outdated manual could lead to significant penalties.
The great thing about customized resources is that they are easily and efficiently updated electronically, so you don't lose sleep over possible legal repercussions.
5. The Goal of Saving Money
In today's world, time is money! Without effective resources for your homecare organization, you spend precious time correcting mistakes, improving errors and updating existing resources. This time, along with the actual price of recreating and reprinting materials, costs you more in the long-run than investing in customized homecare resources.
6. The Goal of Improved Productivity
When you and your staff don't have to worry about creating your own manuals and resources from scratch – and then methodically finding any changes in regulations and applying those changes to your resources – you have adequate time to spend on profitable activities. Whether that's training your team creating an elite staff, focusing on gaining new referrals, or marketing your services, productivity increases as a result.
Choose Kenyon for Homecare Customized Resources
It's important to have the right tools in your arsenal for the type of services your specific agency offers. At Kenyon HomeCare Consulting, we have years of experience in the homecare industry and know exactly what you need to remain in compliance and grow your organization. Our resources meet ACHC and CHAP standards, meaning you can rest easy at night knowing we've got your back. Reach out to us today to learn more!
6 PROVEN GOALS OBTAINED WITH HOMECARE CUSTOMIZATION RESOURCES first appeared in Kenyon HomeCare Consulting blog.
Ginny Kenyon is the founder and CEO of Kenyon HomeCare Consulting, a home health consulting firm that gives agencies a market advantage, promotes creative product development, and offers viable ways to achieve and sustain organizational and fiscal success.
------
One of Ankota's recent care transitions whitepapers, entitled "Selling Care Transition Services to Hospitals" is available for download and we think you'll find it useful. Please click the link or the picture below to download. If you're interested in scheduling an online demo of our home care or care transitions software solutions, just click this button: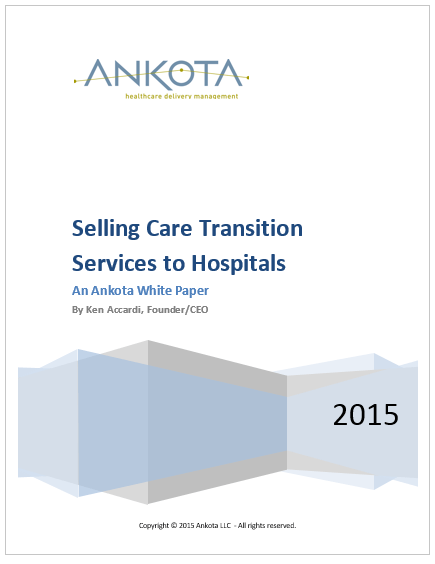 Ankota provides software to improve the delivery of care outside the hospital, focusing on efficiency and care coordination. Ankota's primary focus is on Care Transitions for Readmission avoidance and on management of Private Duty non-medical home care. To learn more, please visit www.ankota.com or contact us.