One of the industry experts I learn from every time we speak is Ginny Kenyon, principal at Kenyon Home Care Consulting. Ginny helps open home care agencies and has given Ankota great inputs on our software. We at Ankota strongly believe that keeping elderly people healthy and comfortable in their homes (and out of the hospital) is an important step in the evolution of healthcare. Ginny is one of the pioneers driving moves in home health delivery. Enjoy her post (below).
If you're considering starting a home care business or expanding the services you currently offer, there's a lot you'll want to know first. You need the right support to help you prepare for everything that's likely to come your way.
Support for Your Startup Home Care Business
Is it possible to succeed in the home care industry on your own? Sure, but there will be many obstacles along the way.
Working with a professional consultant is a sure-fire way to overcome those obstacles with ease and speed. Thereby helping your dreams become a reality faster with fewer expenses and less stress. Here's how!
1. Help Getting the Required Tools
Yikes, startups must have employee handbooks, forms and the all important home care manuals. The amount of documents needed for running a thriving—and compliant—home care agency seems to be endless. Going it alone means you're responsible for creating or compiling these documents, and for finding all the information required for each one.
Instead of spending hours upon hours researching, writing, and editing documents, consider purchasing customizable products from a trusted industry expert. A professional who know exactly what's required for your business and has experience crafting the documents you need. This helps speed up the process for your startup or new business line so you can focus on other pressing matters.
2. Accreditation and State Licensure Preparedness
Before you can open the doors of your startup home care business, you must be licensed and, depending on your business plan, accredited. An experienced consultant leads you in the right direction, helping you with obtaining your license and becoming accredited.
Through policy revisions, on-site evaluations, and mock surveys, your home care consultant will guide you toward 100 percent preparedness for licensure and accreditation.
3. Industry Knowledge and Professionalism
A world of information is at your feet whether you're brand new in the home care industry or attempting to grow or save your organization. But wading through all the available info is time-consuming and stressful.
Expert consultants gain extensive knowledge through working with startups and expansions of all sizes and types. They're in the know about regulations for each type of agency and can steer you towards what works and away from what doesn't.
4. Hiring and Orientation Assistance
One of the most stressful aspects of a startup home care business is finding the right team to support your goals. The hiring and training process is exhausting, but a trusted expert helps you streamline the process. Thus ensuring you hire people who truly fit your agency's culture.
Once you've secured a team, it's important to provide sufficient training and orientation. The right consultant offers guidance and tools for turning your employees into an elite staff.
5. Software Expertise
Selecting software that meets all the needs of your startup home care business is a crucial part of success. From client care to billing and scheduling, efficient software is paramount. It helps to keep your organization's operations running smoothly with as little headache as possible.
When you partner with a knowledgeable home care expert, you receive advice and guidance on choosing the software that best fits your agency's requirements.
6. Help with All Things Coding
Accurate and efficient coding is vital to the success of your startup home care business. When done correctly, it can mean higher reimbursement for your agency, but when coding falters, so does your revenue.
Obtaining a coding outsourcing partner is a great option for making sure there are minimal errors before billing or submitting claims. It prevents you from needing certified coders and provides documentation and coding education for staff. All while ensuring you receive maximum reimbursements!
7. Guidance for Staff Education
Many home care consulting firms, provide compliant, industry specific staff education and training. This education fulfills requirements, enhances client care, improves employee satisfaction, and sets you apart from the competition.
Kenyon HomeCare Consulting and Your Startup Home Care Business
At Kenyon HomeCare Consulting, we offer everything outlined here, and more. Our consultants are experienced, professional, and knowledgeable. And our Aide University program is the only online continuing education program of its kind.
Contact us to speak with one of our experts!
This article entitled, "Getting Startup Home Care Business Support Will Help Your Dreams Come True Faster With Less Stress", first appeared in Kenyon HomeCare Consulting blog.
------
One of Ankota's whitepapers, entitled "Seven Habits of Highly Effective Private Duty Home Care Agencies" available for download and we think you'll find it useful. Please click the link or the picture below to download. If you're interested in scheduling an online demo of our home care or care transitions software solutions, just click this button: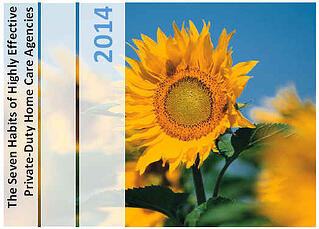 Ankota provides software to improve the delivery of care outside the hospital, focusing on efficiency and care coordination. Ankota's primary focus is on Care Transitions for Readmission avoidance and on management of Private Duty non-medical home care. To learn more, please visit www.ankota.com or contact us.