No matter what state your business operates within the U.S, running a successful home care agency requires that you submit "clean claims." Doing so starts from having clean data at the time that you admit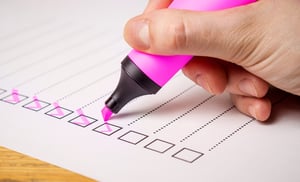 a client. If you follow the 4-point checklist below, you'll be well on your way to maximizing reimbursement for your agency.

Demographics
Start by entering the client information including their name, address, and phone number, but pay special attention to other identifying information such as their ID (usually a Medicaid ID), their correct diagnosis code (usually and ICD 10 code), and any other payer-related information such as an MCO payer code and possibly an admission ID. Pay particular attention to any leading zeros in the client IDs because the leading zeros are usually required for the client ID to match.
Authorization
The important item is the authorization. In most Medicaid programs, you are authorized for a number of "units" of care and units are most frequently 15 minutes each. Generally you get an authorized number of units for one week, for a month or for the entire time period of the authorization. Be sure to enter the start date, end date, number of units and the period (weekly, monthly, or per date range). Another best practice is to document the authorization number. Sometimes it's required for claim submission, and even if not, it's a good reference number in case you need to look it up with the state.
Visit Schedule
Once you have the authorization, you should schedule the visits to exactly match the authorization. Taking an easy example, if you are authorized for 56 units per week for 7 days a week of care, then your best bet is to schedule the care 7 days a week for 2 hours (8 units) a day. If your client wants a different schedule, this is usually acceptable but make sure that you do the math right and schedule the right number of units.
Plan of Care
The last item is the client's care plan. In some states this is provided with the authorization and in others it is your agency's responsibility to determine the care needed by the client. The amount of care authorized should be sufficient for performing the needed tasks, so as a rule of thumb, a client receiving more hours of care will likely require more tasks than a client authorized for fewer hours.

When you get the above items right, you maximize your opportunity to get timely payments from Medicaid. We'll cover additional best practices in upcoming posts.

If you'd like to learn more about managing Medicaid Home Care businesses, please download our free e-Book

"Best Practices for Success in Managed Care Medicaid Home Care"

by clicking the link below:

---

Ankota provides software to improve the delivery of care outside the hospital, focusing on efficiency and care coordination. Ankota's primary focus is on Care Transitions for Readmission avoidance and on management of Private Duty non-medical home care. To learn more, please visit www.ankota.com or contact us.