One of the industry experts I learn from every time we speak is Ginny Kenyon, principal at Kenyon Home Care Consulting. Ginny helps open home care agencies and has given Ankota great inputs on our software. We at Ankota strongly believe that keeping elderly people healthy and comfortable in their homes (and out of the hospital) is an important step in the evolution of healthcare. Ginny is one of the pioneers driving moves in home health delivery. Enjoy her post (below).
Recently I have the privilege of presenting at the annual conference for Kinnser Software. My presentation topic was "Surviving and Thriving in the Midst of a Paradigm Shift." The evidence is clear – we are in the midst of something never experienced in the health care industry. As I watch our sector, home health care, many are hunkering down and just trying to weather the storm. Procrastinating will not work this time!
Study Proves Home Health Care Is The Future
CMS has made it clear they are moving to home and community based services. Costs are out of control and something must be done to break the current cycle. Undoubtedly the finger is pointing towards home health care. Our time has come, but only if we are willing to change into the organizations of the future.
Using the results of the John Hopkins's 'Hospital at Home' study, the evidence substantiated acute care can be delivered in the home. The outcomes showthere is as a much better way to provide services, with quicker results while allowing for major savings to Medicare. Additionally, several chronic care studies are also pointing in the direction of homecare. Although there has been much little change in actual practice, this is the beginning of our future. So let me share mydream for the future of home health care.
Home Health Care Acute Team
All clients admitted to a home health care agency are assigned a Geriatric Care Manager. This manager follows the patient for the current care episode, for all health care readmissions and if the patient's condition becomes chronic. Potentially this patient gains a case manager for the remainder of life. For this model to work, multiple teams will work from and under the direction of the home health agency.
This acute care team consists of nurses, therapists, physicians, nurse practitioners, and pharmacists. The equipment used in an acute environment is also provided. Nurses work one on one until the home patient stabilizes and ready for the sub-acute team to take over. Physicians, pharmacists, and other allied services are on call and available 24/7 during this acute illness phase.
Sub-acute Home Health Care Team
The sub-acute team, those supposedly providing home health care in 2016, will assume responsibility from the acute team. A hand off to the sub-acute team leader occurs and nurses, therapists and home health aides are scheduled based on patient needs. Unlike how many agencies practice today, staff will no longer set their schedules. The sub-acute team visits daily until the patient stabilizes and is able to manage with less assistance. Aides are assigned 8 to 12 hour in home shifts reducing hours over time based on the patient's progress.
Patients diagnosed with chronic diseases or conditions not being managed well at home resulting in exacerbations, will be assigned to the chronic care team. A nurse case manager provides skilled care and the home health aide provides the ADL and IADL support needed for the patient to remain stable at home. However, the chronic care team's focus will be not only be to provide immediate care. Care will include behavior changes supporting a better quality of life and outcomes resulting in reduced costs. We know from adult learning and behavior change studies, it takes one to two years to make these new behaviors permanent. Changing the behavior of patients with chronic disease to prevent frequent exacerbations is a long term home health care project.
The Home Health Care Dream
Given this picture of the future, the home health care agency will be the care hub. Contracts will be needed with hospitals, organizations offering acute neuro and orthopedic rehab, transitional care organizations, pharmacies and other allied services. Consequently, with the current bundled payment direction, most likely all organizations involved will be working under a shared risk contract.
Finally, in the future home health aides will be full members of the team. As such, they need advanced education to meet the increased demands placed on them. At a minimum, aides will be require certification in all major chronic diseases. Aides will then have the knowledge required to recognize and report changes in condition early enough to prevent emergency room visits and acute care team interventions.
Contact Kenyon HomeCare Consulting today to learn how we can help you prepare for the home health care future. Ready to provide your homecare aides the in-depth knowledge necessary to provide five-star patient care? Aide University increases the value of your aides and reduces overall health care costs for your patients.
The future has great opportunities for home health care, but only if we are brave enough to step into the unknown and change. Are you brave enough to dream?
This article, originally entitled THE DREAM FOR THE FUTURE OF HOME HEALTH CARE first appeared in Kenyon HomeCare Consulting blog.
------
One of Ankota's recent whitepapers, entitled "Selling Care Transition Services to Hospitals" is available for download and we think you'll find it useful. Please click the link or the picture below to download. If you're interested in scheduling an online demo of our home care or care transitions software solutions, just click this button: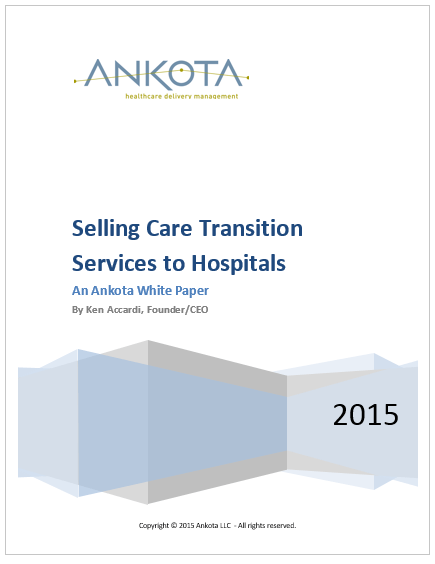 Ankota provides software to improve the delivery of care outside the hospital, focusing on efficiency and care coordination. Ankota's primary focus is on Care Transitions for Readmission avoidance and on management of Private Duty non-medical home care. To learn more, please visit www.ankota.com or contact us.