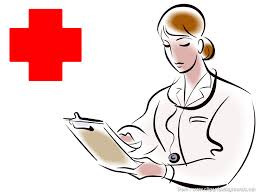 Home Care, Assisted Living, and other forms of care for the elderly provide their clients help with Activities of Daily Living (ADLs). Like all industries, elder care has some of its own lingo, and ADL is an important term to know. I came across a valuable reference guide for information about ADLs posted on the site www.AssistedLivingFacilities.org.
The page includes the following valuable reference items:
A definition of ADL

Examples of ADLs

The distinction between ADLs and Instrumental ADLs (IADLs)

Key statistics regarding ADLs

Daily Living Aids to Make Activities Easier

Family Caregivers Help with Activity Limitations

Sources of Help for Family Caregivers
Please visit the full page here.
What should Your Home Care Software Do Regarding ADLs?
The goal of in-home care services is to help clients with accomplishing ADLs that they might struggle with if there was not assistance. Your home care software should allow you to establish a plan of care for each of your clients. In general, caregivers are seeing the same clients repeatedly and should report on the completion of care items, however, the software should provide the ability to access the care plan at the start of a visit if they are substituting or if it has changed.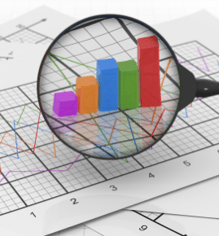 Most care plan items are "tasks" in the sense that the caregiver should be able to report whether it was completed or not and perhaps why not. There should also be other types of care items such as numeric inputs and vital signs, other multiple choice questions and a mechanism to provide narrative inputs. Time and ADL tracking should be achievable via voice telephony and also via smart phone.
If your home care software doesn't strongly support plans of care and ADL tracking, perhaps Ankota can help. Please click here to arrange a discussion or a demo.
If you're interested in differentiating yourself in the home care or home health marketplace, Ankota offers a free White Paper about the opportunity in Care Transitions, Why Care Transitions Is The Next Big Thing for the Home Care Industry Just click the link or the picture below to download.
If you're interested in scheduling an online demo of our home care or care transitions software solutions, just click this button: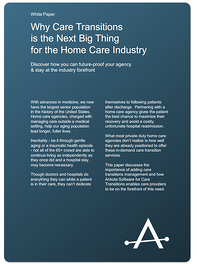 Ankota provides software to improve the delivery of care outside the hospital, focusing on efficiency and care coordination. Ankota's primary focus is on Care Transitions for Readmission avoidance and on management of Private Duty non-medical home care. To learn more, please visit www.ankota.com or contact us.