We are excited to share that Ankota has launched the
Home Care Book Club
(click previous link to join) on Goodreads.com! Our Home Care Book Club was created so folks
in the home care industry can connect, share ideas, learn Best Practices, and of course, to build community through chatting about books!
Please read on to learn about our first book suggestion and recap from Ken: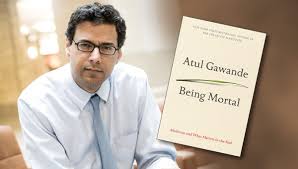 A few year's ago, we announced that
Being Mortal, by Atul Gawande
was the
Ankota Blog's

Book

of the Year.
The
book
talks candidly about the end of life experience. It's written from the perspective of a medical doctor who came out of Med School with the attitude that death was the enemy to be defeated and that when someone dies it's a failure. This is likely a typical and shared thought among most young people in the health care profession and maybe even of young people in general.
As anyone ages, we experience the deaths of elderly relatives and people who our family knows, and then we at some point experience the untimely deaths of people in our age group to to accidents or cancer, and mortality becomes more real to us.
But veterans in home care see it regularly. Since we're a home care software vendor, we're not as much on the front lines, but we feel it too.
One thing we do when we're training a customer is to have them configure one of their clients and "practice" using the system (authorization, care plans, clock-ins) with this client (or maybe a handful of clients). As we meet and train we feel like we're getting to know their clients and sometimes they pass and we feel sad.
Your team of course knows them personally. We had a customer who went live on January 1st and we loaded their clients from a data set that was created around Thanksgiving.
In the final go live prep, our customer's lead went through the system and marked a large number of those clients as deceased. She commented "it's one of those times of year when we lose a lot of our oldest and frailest clients." Many of you are reading this and saying, "Of course! Everyone knows that!" but perhaps we don't. Reading "Being Mortal" helped me to know a lot more and we thought of the idea of experiencing the
book
in ore of a collaborative way.
Being Mortal Chapter 1: The Independent Self
The author, Atul Gawande, is a great story teller. He also happens to be a medical doctor. I first heard of him when I read his
book
"Complications" where he shares his journey as a medical resident and talks about how making mistakes is a necessary part of really learning to perform medicine. Ho wrote several other
book
s and stories in his column in
The New Yorker
that have been shared previously on this blog. He always writes in a way that is relevant to people involved in the world of care and people who are not. He usually has compelling titles for his articles like "Why Doctors Hate Their Computers" and "Is Healthcare a Right."
I give a lecture at MIT and Harvard on Value-Based Care and one of the key readings in preparation is "The Cost Conundrum," which explains how two cities deliver Medicare services to their recipients. city 1, McAllen TX spends twice as much as city 2, Rochester Minnesota but he health outcomes for their patients are much worse. If his name sounds familiar, it's likely because he was recently named the CEO of the JP Morgan health venture assembled by Amazon.com and Berkshire Hathaway. Bottom line is I've both enjoyed and learned from everything of his that I've read and I've met him twice (or at least heard him speak).
My intended message in the last paragraph was intended to be "reach the

book

" instead of just looking at the summary that we write. But having said that, let's summarize a few key points from Chapter 1 of Being Mortal:
In most of history and through the 1940s, most people viewed dying as a part of life and most people died at home. Today in America it's only 17% (and the author speculates that a portion of the 17 percent were on their way to the emergency room.

Dr. Gawande talks eloquently about the first patients he treated who passed away and then about his grandmother in law and his own grandfather. In the case of his grandfather (who almost lived to 110) he lived in a home with his son (Atul's uncle) and grandchildren. He died naturally and the author spoke about how idyllic his grandfather's end of life was.

He talks about how medicine has increased life expectancy. I read that when the US retirement age was set at 65, that the average male lived to 71. Now men in the US are living on average to 84 and woman to 88. I also read an article that said people born this century in the developed world have a 50% chance to live to 100.

He also talks about the reality that the elderly aren't necessarily sad to stop living with young ones in the home as evidenced, for example, by the popularity of retirement communities.

The chapter ends with a cliff hanger. His wife's mom was living independently and doing great until age 84, but then one day she didn't show up to lunch and was found confused and in the wrong place and soon she'd start getting black and blue from falling...
Being Mortal Chapter 1 - Discussion
Here are some topics for discussion:
What do you think about the evolution from "family taking care of elderly family" to "independent living at home?"

Knowing what you've seen as a home care professional, would you rather die in an emergency room or in your home?

How can we make this

book

club

a success?
Read on to our synopsis of chapter 2: Things Fall Apart
If you'd like to learn more about managing a Home Care business, please download Ankota's free e-Book by clicking the link below:
Ankota provides software to improve the delivery of care outside the hospital, focusing on efficiency and care coordination. Ankota's primary focus is on Care Transitions for Readmission avoidance and on management of Private Duty non-medical home care. To learn more, please visit www.ankota.com or contact us.