Author Atul Gawande titled the second chapter of
Being Mortal
"Things Fall Apart" but it's really a chapter about why we die. That doesn't seem very uplifting, but it's actually a riveting chapter and in addition to explaining why we die it also explains why as a society we are living longer that those who preceded us.
The Bad News
Let's go through the bad news first. There are a good number of reasons why people ultimately die. Among them are the following:
The enamel on our teeth eventually decays as does the blood supply to our roots and our production of saliva. Plus as a result of things below, our ability to care for our teeth diminishes

Our blood vessels get harder (with calcium) and our heart has to work harder and thickens while other muscles thin

Arthritis sets in. We have 29 joints in each hand and they weaken

Our brains shrink and make use more susceptible to damage if we hit our heads

Our supplies run out: Hair pigment runs out and we go grey. Our skin looses it's ability to leans and we get spots

There are many more and they add up...
The Good News
The good news is that the curve towards death has changed. When the retirement age was set at 65 years old, men only lived to 71 and now they live to an average age close to 85 (and women are living to 88+) Doctor Gawande explains this and shows that the curves have changed as shown below.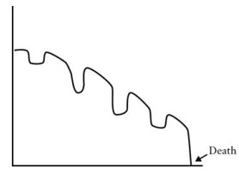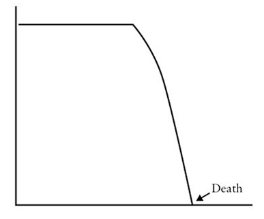 This good news is all the result of the medical advances that have occurred in our lifetimes. Most of the things that we call "chronic diseases" like congestive heart failure and diabetes used to trigger rapid decline, AIDS doesn't kill people any more, and and even cancer has in most cases has become something that can be cured or delayed.
"Shout Out" to Geriatricians
Most of us reading this are people who care for the elderly as opposed to being elderly ourselves, but there's a pretty compelling case made for the importance of Geriatricians... First of all, it is noted that people who see Geriatricians are 50 percent less likely to have depression and 40 percent less likely to need home care. Second, it talks about the risk of falls and how doctors who are able to focus on your balance and muscle strength can greatly reduce your risk of a fall.
What Should We Think About?
A few discussion points for you:
How can our caregivers decrease fall risk?

In the same manner that people who see geriatricians are less likely to be depressed, can the companionship aspect of home care deliver the same result?
If you'd like to learn more about managing a Home Care business, please download Ankota's free e-Book by clicking the link below:
Ankota provides software to improve the delivery of care outside the hospital, focusing on efficiency and care coordination. Ankota's primary focus is on Care Transitions for Readmission avoidance and on management of Private Duty non-medical home care. To learn more, please visit www.ankota.com or contact us.