The Dangers of Coming Home From the Hospital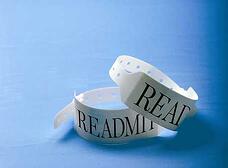 I read a great recent article on Forbes.com entitled "Coming Home From The Hospital Is Actually More Dangerous Than You Might Expect." The great thing about the article is that it tells people what to do to increase their chances of avoiding a readmission. Editorial note: we believe that the chances of avoiding a readmission are highly improved when experts from a home care agency (like yours) helps manage the transition, and that this will futureproof your agency.
But back to the Forbes article (that we encourage you to read in its entirety), the following recipe is prescribed:
1.) Understand your medications and ensure you talk to your doctor or pharmacist about how to take them.
2.) Make sure to schedule and go to follow-up appointments with your doctor.
3.) Find out if your hospital offers home visits or makes follow-up calls.
4.) Inquire about referrals to community services, such as free transportation to follow up appointments and Meals on Wheels, and take advantage of them.
5.) Ensure anyone taking care of you is engaged in all conversations throughout your healthcare experience.
6.) Clearly know your instructions when leaving the hospital, and if you are unsure, ask, ask, ask – and ask again.
Home Care agencies are in a great position to help folks navigate through all this. To get you started, we have a new free white paper, called Why Care Transitions Is The Next Big Thing for the Home Care Industry. If you're interested in learning more about our home care management software solutions, or about our Care Transitions component as a way to increase revenue, just click the button below: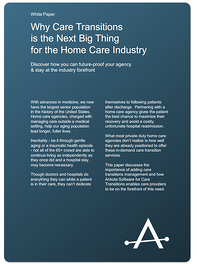 Ankota provides software to improve the delivery of care outside the hospital, focusing on efficiency and care coordination. Ankota's primary focus is on Care Transitions for Readmission avoidance and on management of Private Duty non-medical home care. To learn more, please visit www.ankota.com or contact Ankota.