One of the industry experts I learn from every time we speak is Ginny Kenyon, principal at Kenyon Home Care Consulting. Ginny helps open home care agencies and has given Ankota great inputs on our software. We at Ankota strongly believe that keeping elderly people healthy and comfortable in their homes (and out of the hospital) is an important step in the evolution of healthcare. Ginny is one of the pioneers driving moves in home health delivery. Enjoy her post (below).
If you're thinking about starting a homecare agency, you're likely evaluating the risk-to-reward ratio. It's natural to be anxious when launching any new business, and you may wonder if you're making the right decision. In this article, we'll discuss why now is the time to dive into homecare, as well as the steps to take in order to avoid a homecare startup failure.
Why Choose a Homecare Startup
According to Pew Research Center, nearly 10,000 Baby Boomers reach the age of 65 each day. As this population ages, the need for medical care increases. Also contributing to the growing need for healthcare is the rise of chronic illnesses including heart disease and diabetes.
So why home healthcare? We all want to remain independent and live at homes as long as possible. In fact, approximately 80 percent of elderly people receiving long-term care live in private homes. This number, the continual aging of Baby Boomers and the rise of chronic disease, demonstrates the growing need for competent homecare providers.
Steps to a Successful Homecare Startup
Once you've made your decision, it's time to get to work. Just as with any business, there are numerous factors that determine the success or failure of your startup. Here's a guideline to follow when you're ready to turn your dream into reality.
Do Your Research
Before any planning begins, comprehensive research should be conducted. Evaluate the demographics and competition in your desired area. Find out what services are already offered and what is lacking. Uncover the average prices charged for like services in the community. Arming yourself with knowledge allows you to make good decisions and more forward with well constructed plans.
Determine How to Best Set Yourself Apart
The research done will reveal ways in which you can make your organization different (dare we say "better?") than the competition. Study what you've discovered and brainstorm which service gaps you can fill.
For instance, do other homecare agencies in your area offer chronic disease care? By providing your aides with access to advanced chronic disease education, you set your care services apart from the competition.
Consult With an Expert
Managing a homecare organization takes a variety of skills. As the owner or leader you'll wear many hats and need to think like a banker, a lawyer, and an HR manager.
Even with some business experience, you'll benefit from engaging a professional with in-depth industry knowledge. An expert with homecare experience knows the ins and outs of everything from hiring requirements to Medicare compliance.
Write a Business Plan
After conducting adequate research and seeking out advice from industry experts, you're prepared to craft a thorough plan. When drafting your business plan, be sure to include ideas for marketing your services. How will you acquire clients, build your brand, and encourage referrals?
Next, come up with a practical budget. You'll need to include marketing spending, hiring costs, office supplies and equipment, mortgage or rent, and a financial cushion for your first year of business.
Prepare Necessary Resources
Policies and procedures manuals, job descriptions, employee handbooks and staff education are just a few of the tools required to ensure a successful homecare startup. And the numbers of needed resources only increase if you plan on accepting Medicare or private insurance payments. Putting these resources together before you open your doors will save you time and frustration down the road.
Kenyon Consulting Does Homecare Startups
At Kenyon HomeCare Consulting, we know what it takes to succeed in this industry. We can help with the entire process of your startup – research, obtaining a licence and materials preparation. Download our free Home Care Agency Start-up Checklist for more tips on how to avoid a homecare startup failure.
HOW TO PREVENT A HOMECARE STARTUP FAILURE first appeared in Kenyon HomeCare Consulting blog.
Ginny Kenyon is the founder and CEO of Kenyon HomeCare Consulting, a home health consulting firm that gives agencies a market advantage, promotes creative product development, and offers viable ways to achieve and sustain organizational and fiscal success.
------
One of Ankota's recent care transitions whitepapers, entitled "Selling Care Transition Services to Hospitals" is available for download and we think you'll find it useful. Please click the link or the picture below to download. If you're interested in scheduling an online demo of our home care or care transitions software solutions, just click this button: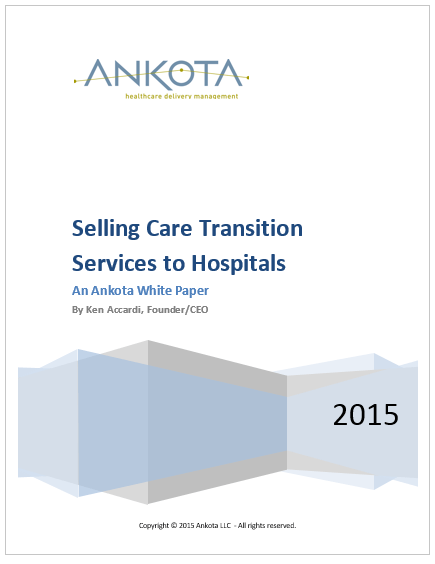 Ankota provides software to improve the delivery of care outside the hospital, focusing on efficiency and care coordination. Ankota's primary focus is on Care Transitions for Readmission avoidance and on management of Private Duty non-medical home care. To learn more, please visit www.ankota.com or contact us.